In this interview, we talk to Inbound 2019 speaker Carina Duffy.
We talk about #INBOUND19, HubSpot, Implementation, and so much more.
Carina shares who should be in the room at his INBOUND 2019 session and why they should be in the room as well. She talks about about how she hopes her talk will give marketers the confidence they need to own their HubSpot tools to kick butt with their marketing.
Some key takeaways are:
Understand why the jump from the HubSpot buying process into actual software implementation is such a struggle for so many individuals and teams (hint: it's not HubSpot's fault!).
Learn practical strategies and tactics that anyone can use for a successful HubSpot implementation.
Leave with a step-by-step roadmap to owning your team's success with the HubSpot platform and achieving mastery of the tools.
🎤 More about Carina Duffy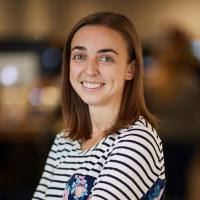 Carina Duffy is the HubSpot Specialist and Lead HubSpot Trainer at IMPACT, a Diamond HubSpot partner agency. Carina spends her days training and consulting with clients across a variety of industries on how they can get the most out of the HubSpot tools, from implementation to mastery. Her favorite part of being a HubSpot Certified Trainer is going on-site with clients to do "HubSpot Therapy" intensive workshops.
When she's not working with clients, Carina co-hosts a weekly HubSpot-focused podcast (the Hubcast) with Marcus Sheridan and curates the Inbound Training Ground video series.