Your website will include a variety of images, fonts and other files for users to view or download.
Marketing Hub Starter, Professional, Enterprise Legacy Marketing Hub Basic, and HubSpot CMS users can host content right within the CMS by uploading your pictures, audio files, PDFs and more
into File Manager— which stores your web assets right on HubSpot's content delivery network servers for easy use on your domain.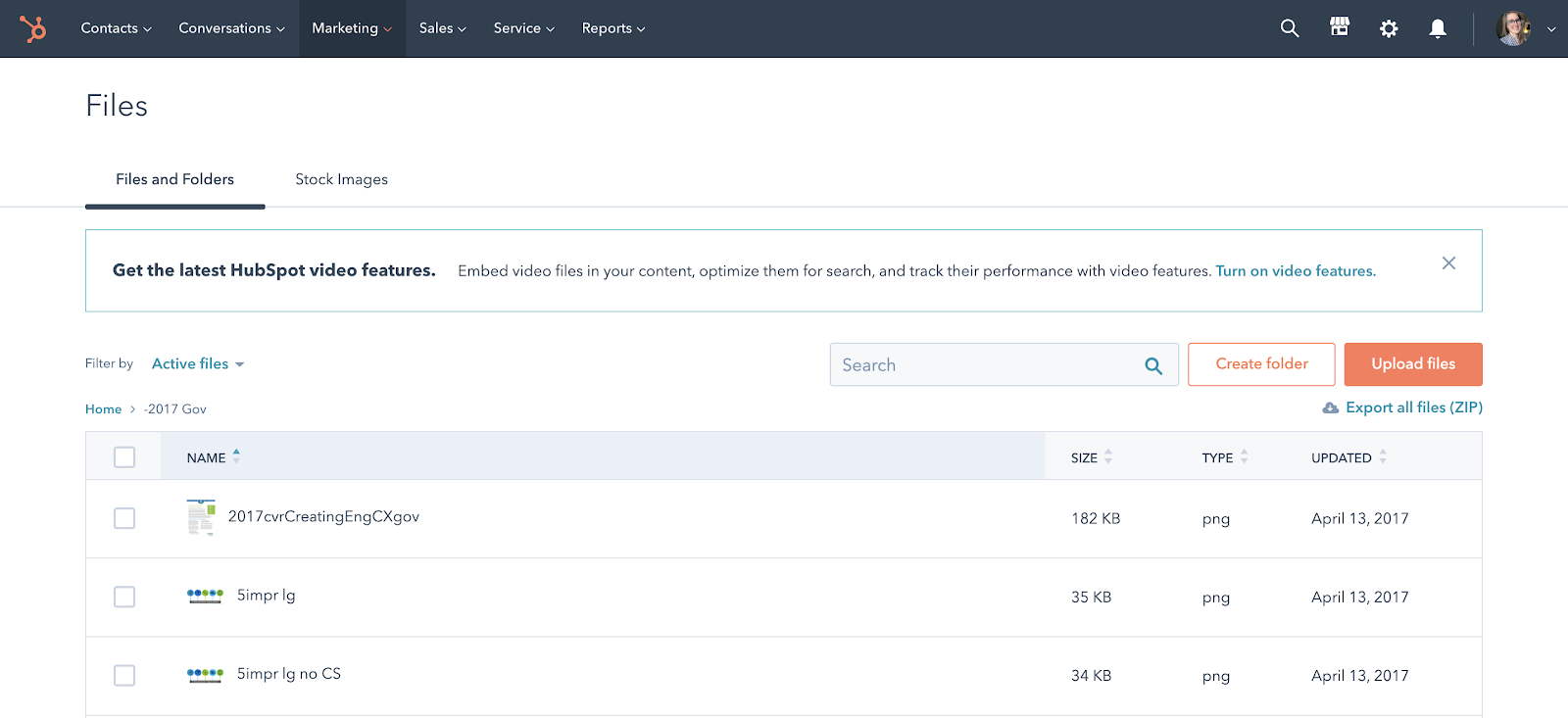 Where to Find File Manager
Within your HubSpot Marketing portal, navigate to Marketing > Files and Templates > Files.
If you have a Marketing Hub Starter account, navigate to Marketing > Email, click the More tools dropdown menu in the left sidebar menu and select File Manager.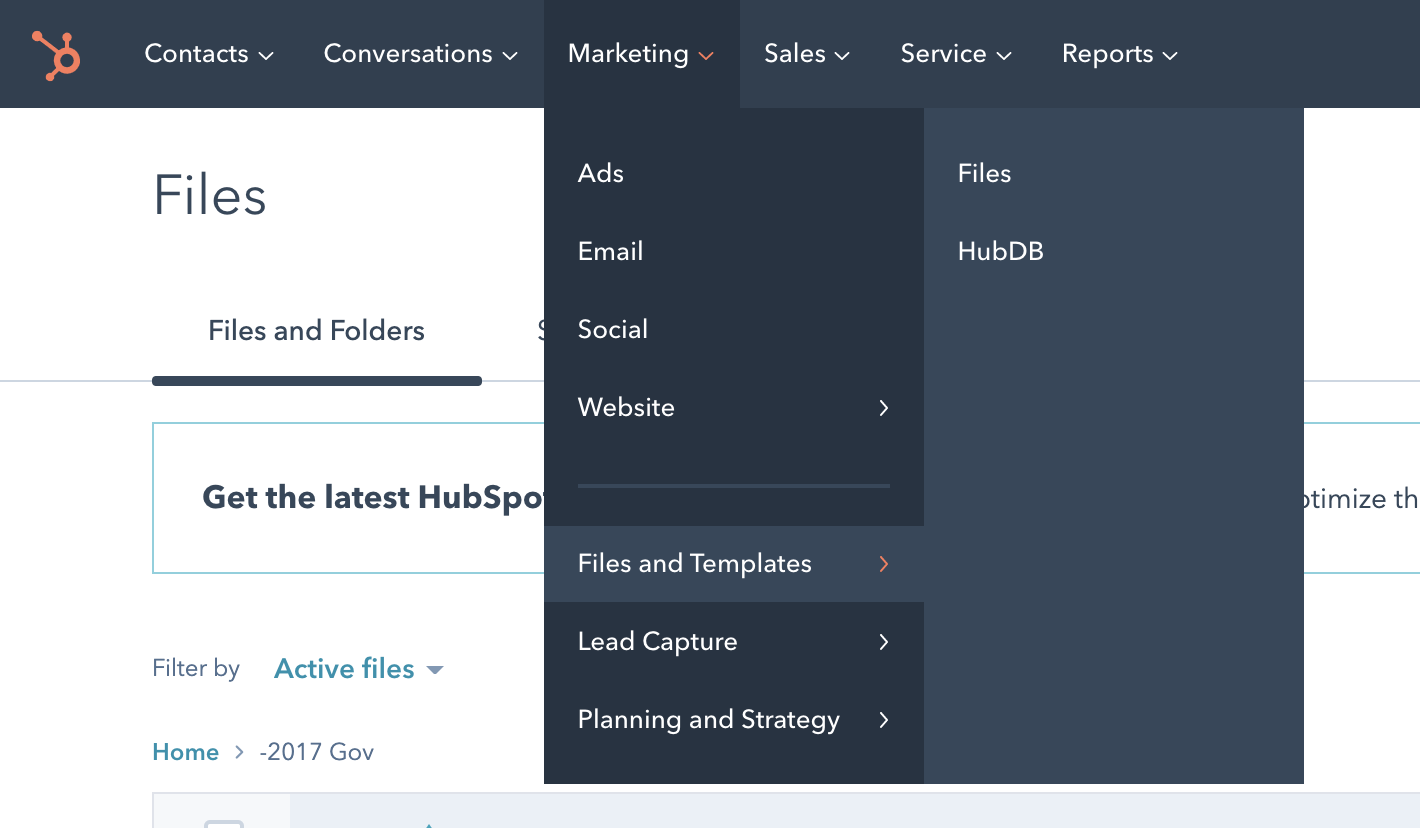 File Manager also offers two different views— List view and Grid view— for viewing your uploads in your preferred format.
From there, it's as simple as clicking Upload files to add your images, documents or visual assets to the manager. After completion, no need to save your files, as they are automatically captured and stored in your CMS.
File Size Requirements
How large of an image can you upload? The good news is, there's no limit on most file type sizes— except video. There are a maximum of 2 GB and stream at 2.5 MB per second, though using HubSpot Video can grant you faster streaming abilities.
Stock Images, powered by Shutterstock
Don't always have the right image? HubSpot integrates with Shutterstock to access thousands of professional images at your fingertips. If you already have a Shutterstock account, you can easily purchase licensing rights directly through HubSpot, or, buy individual images through the platform.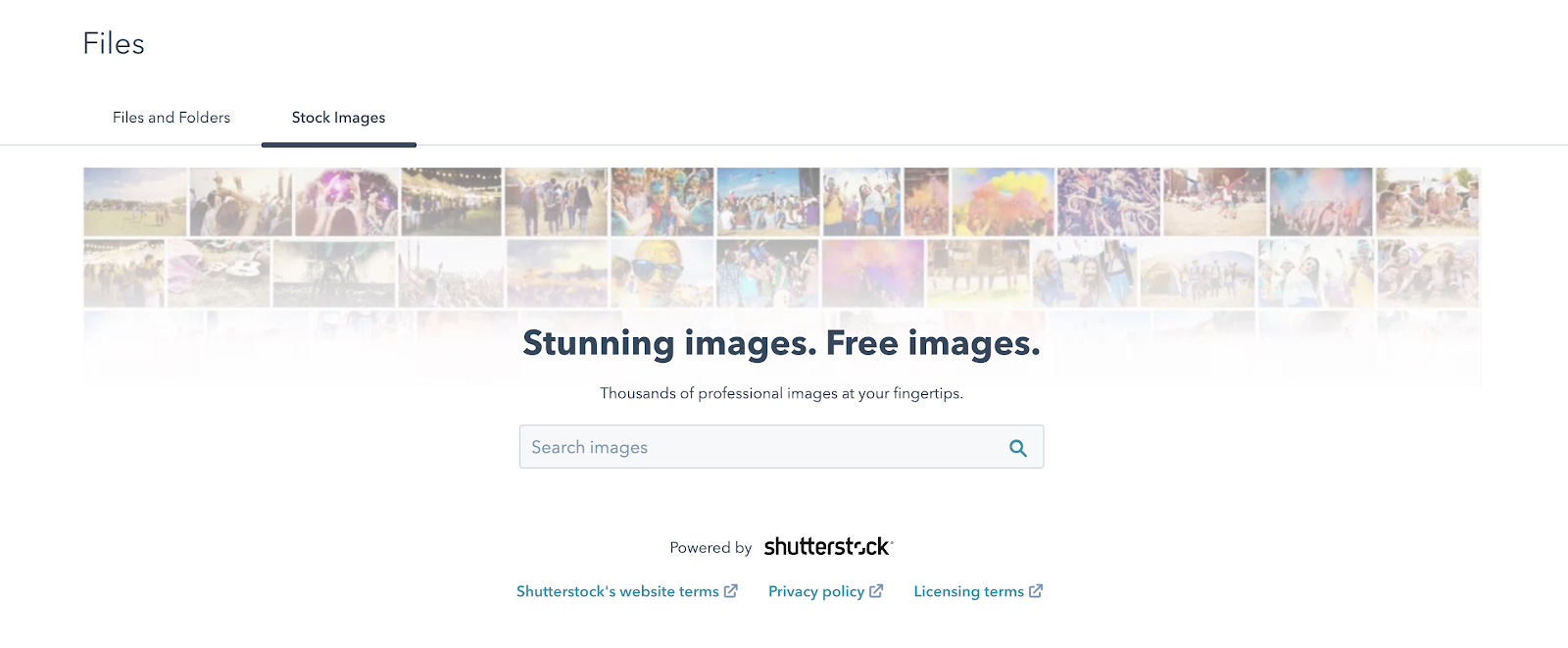 Modifying your Files
Once uploaded to File Manager, you can organize your content into folders, rename, archive, download, edit, and delete them, or insert them into your content. An easy-to-use Search functionally gives you access to specific files amongst large quantities of data, so you can always find exactly what you're looking for.
Understanding the File Details Panel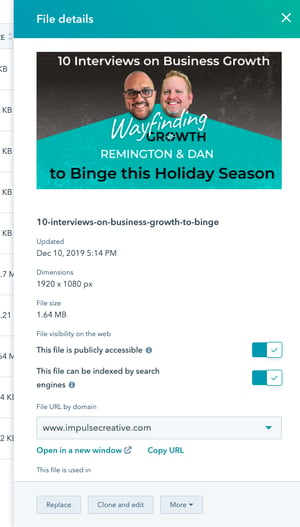 Whenever you click into a piece of content inside of your file library, a panel will appear on the right side of your screen. This File details panel will show you the file's name, upload date, dimensions, size, visibility on your site and more.
It's here that you can edit your file, allow you to rename or duplicate the image, even replace it with a new one.
QUICK TIP: Don't forget SEO best practices when uploading your initial files into File Manager. Using keywords in your uploaded file helps search engines like Google to find your content, and while files can be renamed once uploaded inside of the platform, save yourself the hassle by naming them strategically before bulk uploading.
Another cool add-on inside of the File details panel is HubSpot's This file is used in feature, which allows you to see the pages this current piece of content lives on across your website, to avoid duplicate content uploading.
Inserting your Files
Add your imagery to your website or blog by editing the page. Click the rich text module where you want the image to appear, and click the image icon. You'll then see a panel appear on the right, where you can search or find the image you'd like to insert right within the File Manager. Click Add image to place it within the module. You can also insert a video by selecting the video dropdown.
Downloading your Files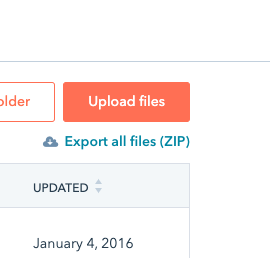 File Manager stores all uploaded files, and you can easily download them in original quality for reuse elsewhere.
Download individual files by clicking the More button inside of the File details panel and choosing Download.
You can even bulk download all your files by ZIPing them, by clicking Export all files (ZIP) under the Upload files button in the right-hand corner of the File Manager screen.
More Best Practices using File Manager
Add an SEO-enhanced image description, organize your folder structure and hierarchy and more with this helpful best practices article from HubSpot.