In this interview, we talk to Inbound 2019 speaker Lou Orfanos.
We talk about #INBOUND19, Sales Hub, Sales Friction, and so much more.
Lou shares who should be in the room at his INBOUND 2019 session and why they should be in the room as well. He talks about the HubSpot sales Hub, removing sales friction, and even gives us some homework pre the Inbound event.
Some key takeaways are:
Discover the path to frictionless selling through our 3-part framework.
Learn how Sales Hub can help to create more convenient purchase experiences for both buyers and sellers.
Discover the newest features and enhancements to the Sales Hub.
🔥 INBOUND INSIDERS TRACK 🔥

The smell of INBOUND Is in the air. We're so close! Who else is excited?

With all of the product launches and updates coming from HubSpot at INBOUND, it can be overwhelming to understand what's coming out. You also don't want to leave INBOUND without knowing how to take advantage of new tools and strategies. For the first time, HubSpot is giving customers the opportunity to complete the INBOUND Insider Track to stay informed about everything new.

Once you complete the track, you'll get an exclusive certification and a chance to win VIP tickets to INBOUND 2020. Sign up now: https://www.hubspot.com/inbound-insider-track
🎤 More about Lou Orfanos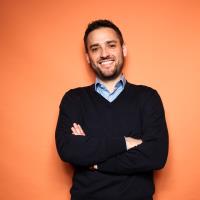 GM & VP of Product, Sales Hub
HubSpot
Lou is the General Manager / VP Product for the Sales Hub at Hubspot, where he's responsible for driving the vision, product and go-to-market efforts for the company's Sales products.
Prior to joining HubSpot, Lou led the Sales & Marketing organizations at Localytics. Originally joining Localytics as SVP Product, Lou helped create the world's leading Mobile Engagement Platform, used by the largest apps in the world to power their mobile growth. Previously, Lou ran join.me at LogMeIn as VP product, growing it from its infancy to become one of the world's fastest growing collaboration tools.
Lou has also worked in the consulting space where he's helped large technology and consumer organizations achieve their growth objectives. Lou is a graduate of Bentley University, and currently serves as a Guest Lecturer on Product Management at Harvard Business School.