In this video, I talk with Remington Begg about his Inbound 2019 talk on HubSpot conversational marketing and sales strategies.
He shares the importance of conversational marketing for your entire organization.
We also lean into why not to be afraid of the bots and Remington also shares that he will have giveaways for the audience at his Inbound session.
Some key takeaways are:
Discover new ways for the sales team to engage opportunities throughout the buyer's journey.
Learn how to direct users to the key pages you want based on personas and ideal client profiles.
See how to find the best pages to create chatbots on.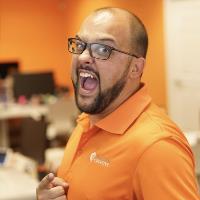 🎤 More about Remington Begg
Chief Remarkable Officer
Impulse Creative
Remington is a dynamic speaker who's passionate about conversational marketing and sales who unpacks the high level strategies and merges it with pared-down tactics that give attendees actionable things to take back and implement.