#Unpacked EP 22: The Blog Tool
Where should I email this content to?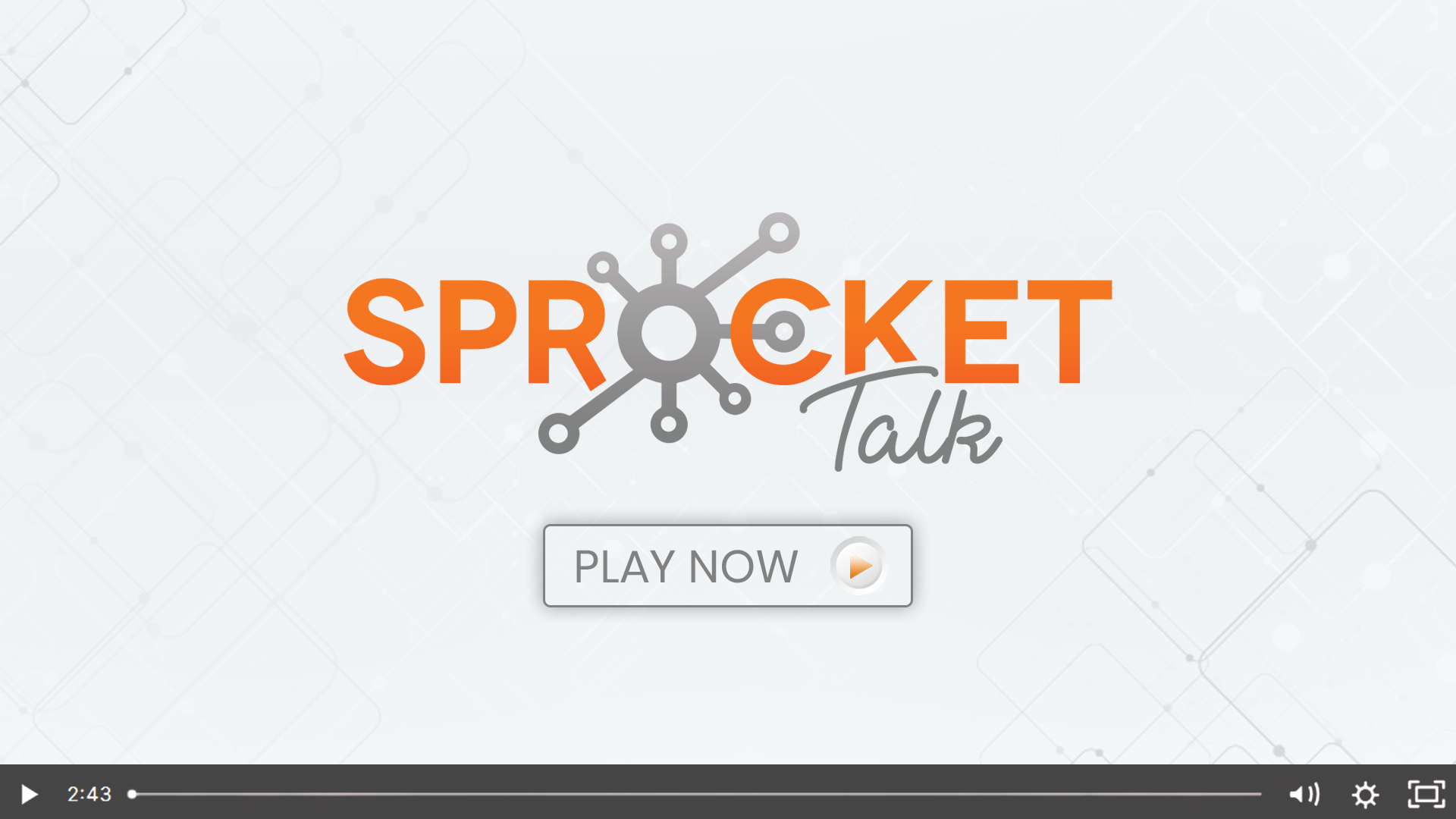 George B. T.:
All right, and we are back with a quickness. There we go. Now we got both of us. It's a your boy, George B. Thomas, and of course Remington Begg, the man, the myth, the legend, here for another episode of Sprocket Talk Unpacked. Remington, how are you doing this fine Tuesday?

Remington Begg:
I'm doing great.

George B. T.:
Nice.

Remington Begg:
Doing great. Coming off of INBOUND is like a high like no other. It's been pretty remarkable. We got some serious love. I think we got to share some serious love with the audience. Good, good times.

George B. T.:
Yeah, it's funny, we several times say it's like a reunion when you end up going to INBOUND and Partner Day and all of that, and for sure I know you and I both gave love to the audiences, they gave love back to us, but today we're giving love to the Sprocket Talk Unpacked audience who loves to come and watch us live, or sometimes they come to SprocketTalk.com. They sign up for a free VIP access and then they watch the recordings because that's literally the only place that you can get these is in the recordings other than watching live, and today Remington, we're talking about the blog, which is interesting in itself that we're just going to talk about a single tool, the blog. So I'm super curious, when you think of HubSpot, and content marketing, and all the tools, what first comes to mind when you think of the HubSpot blog tool?

Remington Begg:
So I think people think of the blog as just a blog, and I usually joke when I'm in the sales process, or I'm doing any courses with people where it's the four letter word that almost every business owner I know hates, right? But when we think about the HubSpot blog is it can be so versatile, and I think a lot of times people don't really think about it beyond what they would consider even like a WordPress blog, the same thing. There's so much more strategy that you could throw into it, and from a platform point of view, so much intel.

George B. T.:
Yeah. Yeah. It's funny because you say it's only a blog, and actually a blog has been like the superpower or the backbone to this thing that has been inbound or content marketing. It's funny because when I think of blog, I think about humans need to actually be able to name something, because it's not like a blog, or a page, or a landing page, or a pillar page is any different to a machine. Google looks at a piece of content, a piece of code, pieces of texts in the same way, but humans early on needed to name it something. Blog, roll down to blog and it's just, it's kind of crazy. I've always hated the name to be honest with you, but I've loved what we've been able to do with the blogs. It's funny, I just added the S not necessarily on purpose but on purpose.

George B. T.:
Let me just dive into the first thing that I like about HubSpot, because of coming off of other CMSs, when you start to talk about multiple blogs, it gets a little difficult. It gets a little dicey. There are some hoops that you got to jump through, some additional plugins or things that have to happen to have blogs, if you will. I love that HubSpot has made it really easy to have multiple blog areas. So for instance, SprocketTalk.com, tutorials, blog, interview, blog. The blog, while we're using it as a way to almost capture, or collect certain types of content in those areas so that we have feeds and it's easily searchable. Again, kind of to your thing, thinking out of the box in what you would use a blog for, but my thing, my first thing is being able to have blogs in HubSpot with ease. So what about you, fine sir? What do you think as far as if we get down to the nitty-gritty, the technical side of it?

Remington Begg:
Yeah. So the nitty-gritty, and depending on your level of HubSpot, a lot of that comes into reporting, but I think a lot of times people don't think about their blog as a secondary piece of their website. You have a whole heck of a lot more appreciation for the content that's being created or your blog if you realize, like for Impulse, 76% of our traffic comes through our blog articles as a first interaction. So when we think about that, it's easy to make the blog the redheaded stepchild, no offense to redheaded step children, but [crosstalk 00:07:26] redheaded.

George B. T.:
Redheads or stepchildren, either or.

Remington Begg:
Yeah, right, but we think of that being something that is a potential issue, and at the same time it's also one of those things that doesn't necessarily get appreciated by the C-suite right off the bat, and I think that it can be one of those areas where having that reporting front and center. In total, we got 150,000 people to our website this month and 100,000 of those people came from our blog is going to be a much more powerful conversation than just saying a 150,000 people came to the website, because it can reinforce a lot of the activities, and I think sometimes marketers don't communicate that effectively to the CEO, and what's awesome is HubSpot shows you the total, but then right in the blog analytics you've got that tab, and it shows you that on a blog by blog basis. So it can be pretty powerful.

George B. T.:
I love that. I'm going to lean into another thing that I like about HubSpot blogs, but before I lean into it, I want to kind of tell the story of why I like this feature, and you really, fine sir, set up the beginning of my story, and that is a lot of visits come to your blog content because they're searching for that content. However, historically people have said, "Well, a blog is this. It's got a left sidebar, it's got a right sidebar, it's got related articles. Maybe it has an author." Check, we've got a blog, let's dump some content in there. But might I suggest that if the blog is actually where you're getting the majority of your content, that your blog articles would almost go through a transformation and become more of like micro home pages.

George B. T.:
So sure, there's the content, and there's the functionality and features that you need there, but how right now, if you look at your blog, and this is going to be weird coming from me, the guy who always is like, "Solve versus sell." But how is your blog articles selling right now? How are they selling your services? How are they leaning into you as a company and your thought leadership? Or is it just a random piece of content on seven salads that our CEO loves? Woo. Which sucks, by the way, don't ever write that article. But my point is, how, what pieces do you have in there that are all these eyeballs are seeing that is leading them down the sales road or the nurturing road of wanting to do business with you or understanding how they can do business with you off of these pieces of content that they're finding. Now, that now, the functionality that I love about this is that for each blog, because you can do blogs, remember my first one, right? Multiple. You can have tablets at a list level and at a post level.

George B. T.:
So you can totally make these blogs look the same, or you can make them dramatically look ... You could have completely different experiences dependent upon what type of content you're trying to get them to see. And by the way, if you could do multiple blogs, at some point maybe some of the content you're creating, a bunch of case studies, is actually in a blog and it's more bottom of the funnel, and so more some of those heavy-duty sales lifting elements are on that blog, where if it's awareness content, right, then maybe it's just very much subscribed. You guys, hopefully you get it. There's a whole bunch you can do with multiple blogs, multiple templates, multiple stylings and multiple strategies that right now if you're just saying, "Yeah, we've got a blog. Done." You might not be done.

Remington Begg:
Yeah. So I love the fact that you brought that up because one of the things I saw in a couple of the user support channels was that people weren't sure ... I want a different template for this blog than that blog. Now, I want to define what we're talking about blogs. You're talking about what you just said, different blog, different blogs in HubSpot, not necessarily different blog articles, but it is possible to hit those different blogs in, one HubSpot blog, blog roll, we'll call it.

George B. T.:
Yep.

Remington Begg:
You could make it if you have smart developers, raising my hand for the audio people, but you can make it so that the content is conditional based on a variety of things. So if you have case study, make it so that it adds in extra elements or modifies the layout. So there is, it is possible. It doesn't come out of the box that way, but yeah. I mean there's a lot of different ways. Same thing with default CTAs. We've done some pretty crazy stuff with making it so that a smart CTA pops up or an entire bottom piece of a blog changes on a global level for some of our clients based on topic. So there's just a lot you can do if you think about it as another step in the journey for your prospects. So whether it's at the end of the sales cycle or the beginning, you could make those layouts change. But when we think about that, that's also something that I think people get stuck on because they just go, "Oh, it's a blog." And you're mentioning having multiples. Sprocket Talk, all the videos and everything is built on five blogs, I believe, that are all intertwined and intermingled. Very, very complicated like.

George B. T.:
Yeah, and not that it's complicated to use, but we've set the system up. Hello Francis, I'm super glad that you have joined us for this week's Unpacked. So Remington, it's funny you leaned into something and you started to call them topics, because historically HubSpot has always called topics, topics, because they're topics. However, if you go into the blog tool nowadays, they're actually called tags, which is interesting. It's interesting that this changed, but nevertheless, if you call them tags or topics, that was actually one of the things that I love about the HubSpot blog because now you can start to do very micro finite scalpel type things. Meaning just at the surface level, you can show different users who come to your content the main types of categories, or topics, or tags that you create content around. Now, you don't want 57 tags or topics. You might want five, or 10, or 12, and you're going to want to make sure that you've got five, 10, 20, 30 pieces of content in each of those because back in the day, remember when you used to go to a blog, Remington, and be like one article in this topic, and one article in this one, and three in that one, and you're like, "That just looks hokey."

George B. T.:
So make sure you've got some content for those main topics, and might I suggest that your topics might match your pillar pages and the key topics that you actually talk about for your company. SEO, just going to throw that out there, but also you can do some micro things. Again, Sprocket Talk, we're trying to do things so we can talk about and show these things to people. So for instance, we have multiple blogs, five of them as Remington has said, but even one of those blogs, we've chopped it into multiple things. So for instance, we've got the hub. Okay, the hub has what is content, it's got the Inbound Speaks content and it's got, it's just kind of this place where we can put other pieces of content. But if you go to our navigation, and you're looking for what is videos, we don't make you go to the hub, and then go to what is. We want to remove some of those clicks for you. So literally in the navigation we're like, what is, and when you click on that because of the tag or topic, now you're going right into that type of content.

George B. T.:
So again, being smart with making it a great user experience, using some of those tags or topics for some of your high level navigation, and might I suggest too that you have an RSS feed for each tag/topic inside of HubSpot. So you could even get as micro as if you wanted somebody to be able to subscribe to a specific type of content topic version in one blog, you could have the ability to do that because you could create an RSS feed email based on that topic or tag and rock and roll.

George B. T.:
Remington, my goodness. What would you like to talk about next when it comes to HubSpot blogs? I can't hear you.

Remington Begg:
Mute.

George B. T.:
Rookie move.

Remington Begg:
Rookie move. These new headphones drive me crazy. My other headphones weren't working so. I like going to the idea. So you're talking topics and tags. For those of you who are looking through documentation that have had seen things referenced as topics or referenced as tags in HubSpot, they are one and the same. So it's just really important to take a look at. Now, as we start thinking about those, if you adopt a HubSpot account, odds are the tags or topics are going to be atrocious. So one of the cool things that HubSpot does is makes it so you can actually merge those together in anything that was on tag A and tag B, but you want to be combined. You can combine them into tag B and then even rename them to be what tag C is. So you could really clean those up and make them more actionable.

Remington Begg:
Where this comes in really important is Google indexing those pages. So top performing content is top performing because it's indexed, but with each page that it gets kind of pushed further down into the feed, if you will, it's going to become less and less of a priority in Google's eyes. So if you have some top performing stuff, freshen it up or figure out a way to get related posts or featured posts up there so it helps everything be crawled more effectively, but those tags are super important. I think, again, that could be another one of those things that's a slight afterthought as people are going.

George B. T.:
Afterthoughts. They'll get you every time, I'm telling you. So Remington, it's funny, I want to stay on that left hand sidebar inside of HubSpot on the blogs, and I want to talk about how I really think there's a feature that not enough people use or use to its full capability, and I want to talk about the reason why they should be using it to its fullest capabilities, and that is the stinking authors link. Author, please, author equals human, human equals content, content equals value, value to human, thought leadership equals trust. You can rewind that later people, but that junk makes sense. I'm just going to throw it out there. If I write 52 articles, I want you to know that George B. Thomas wrote those 52 articles, because it's those 52 articles, or 12 of them, or seven of them of them that have made it to the point where you're like, "This is a good thing. I need to go over to SprocketTalk.com and get that one-to-one personalized video course because I need to make great personalized one-to-one videos." And it's because you knew that I wrote the content, and you started to trust me, and you're like, "Yeah, he's a thought leader and now let me go do that." Or Remington in conversational marketing, or Jen Villa on our team in SEO, or Ryan, right, in paid search.

George B. T.:
Whatever it is that you need to do, you should know that there's a name to that, but here's the thing. Typically it's just a name and it's like a by, and some colon semicolon thingy, and that's it. It's poopy, it's just poopy. I want to see a face. I want to be able to connect with them on social. I want to dive in and learn a little bit. Do they like long walks on the beach? Do they like puppy dogs? Do they got five kids? I don't know. What else is going on in this human's life that is adding value in this article that I just read? I'm just saying. Authors are important. Humans are important. Understanding where you can connect, and who they are, and what you can learn from them is important. So by all means, if your author area is like the Wild, Wild West with tumbleweeds blowing through it, and it's like this article made with love by Bob. Thanks Bob.

Remington Begg:
Or by system.

George B. T.:
O-M-G.

Remington Begg:
That's my favorite.

George B. T.:
What else, Remington?

Remington Begg:
Or by admin.

George B. T.:
Yeah, by admin, yes. Thank you, admin. You are the bomb.

Remington Begg:
Right. That's really interesting you bring that up because if you're using HubDB for your team pages, you could make some pretty awesome tag, because tags and authors work very similarly. You can make that, bring in that information via HubDB. Pretty awesome too. So kind of enhance that experience for sure.

Remington Begg:
Now I want to kind of take this a little nerdy and we talk about even the Sprocket Talk Unpacked blog that we have, which this video, you're watching it live right now, it's not on our blog, but when you see this as a recording, it's actually hanging out in our blog. We've actually made it so that the blog is membership only, which I think is something that people don't necessarily know about. Now, we're not doing the traditional way that HubSpot does membership only, because we're showing people some content if they're not in our membership, but then we're showing them all of the content if they are, and if you are, thank you, you're awesome. If you're hearing this, you are.

Remington Begg:
So when we look at that, when we think about that, there's function in the blog settings that actually says, this would be enterprise only accounts, but it would be that you can make it so that the content is membership only, and that would make it so the entire feed is not indexable by Google, but it's only indexable in the membership. There's a lot of value there if you're going to do it. The way we did it was actually with conditional content in the blog template. So we actually have two different versions of the blog, two different versions of the video that shows at the top of the blog and we've incorporated that all in. So all of that functionality, everything you see on Sprocket Talk is 100% HubSpot. So that's a really powerful thing. Now, I'm going to say that we are testing this concept because I don't know anyone other than the news that says, "You've reached your five articles today. Please sign up to view everything." Right? We're trying this to see kind of how it works, and so far the use case seems pretty good. But you got to think outside the box in a lot of cases with your audience and with the people that are coming to your website, because there could be some substantial value there.

George B. T.:
Substantial value. You know what I think gives substantial value to the blog, Remington?

Remington Begg:
Content.

George B. T.:
I think the fact that ... Content, absolutely, and that's where I'm going, is when you create your content, you have multiple ways that you can create blog content. So for instance, if you like to create your content in let's say a Google Doc, you can do that. If you like a more simplified, just focus on writing the text a concept, you can do that, draft mode. So Google Doc, draft mode, or you can go right into the main blog editor that's been around for years, and just start typing away and see your sidebar and everything else, that hero image is all there. So the fact that you have really three major choices, the main editor inside a Google Doc or in draft mode is super dope because it's all about you creating that content, you creating the experience that allows you to create the content that adds value. So I love the value of being able to say, "You know what? Dang gone" I'm going to look at that sidebar, I'm going to look at that hero image. I just want to go into draft mode and I want to be able to just focus on what I'm creating.

George B. T.:
I love that in draft mode too you can hit the little plus sign and you can insert an image, or insert a video as you go, and continue to type away, and then it just takes all of that stuff and nicely puts it into the blog editor. So if you haven't tried draft mode or you haven't tried just creating it in a Google Doc and then bringing it into draft mode and then to editor, you should try and see which way do you like best, which way allows you to work the easiest or the most efficient when it comes to creating that content. What about you, sir?

Remington Begg:
I love the Google docs integration. It's almost like the diamond in the rough. The blog tool is not that rough, but diamond in the rough in regards to being able to just import it in and preformat, and even almost upload the images into the post. It does indicate them through the Google CDN, but for the most part it's pretty on point. The last one is, the last thing I can think of right at the moment until you keep talking is the importance of selecting the right featured image, because that's changed a lot over the years. We're even in the middle of a pivot. We have a new, it's 80% done, but a new design on ImpulseCreative.com where we've moved the featured image to be more of a primary focal point than a secondary one. But the featured image is being used in a lot of snippets nowadays, and I think a lot of times people are mentally thinking about the featured image as one of the images on the blog, but it really should be a teaser of the article as you're doing it. So when you're thinking about that featured image, make sure that it's gotten certain dimensions, and that's something I love about HubSpot is they're actually now coaching people like, "The orientation of your featured image is off and it's not going to look good on social."

Remington Begg:
You want to make sure it's optimized, you want to make sure it's not too large so that Slack, or Facebook, or Twitter is going to load the right thing, but it's very easy to turn that button off, but it's also going to hurt you in the long run. So make sure that you are leveraging featured images and then video, video. I'm going to let you riff on that one, George.

George B. T.:
Well, so video as far as teasers or video inside of the content, absolutely, because it gets people to stay on the page longer. It makes the content more interactive. You can put a 1,000 bazillion words in a minute worth of video that they would not want to read as they go through there. So the SEO value and user value combined. So yeah, video without a doubt. You know, Remington, though, my mind, I like to go into the nerdy side of things here and there. So one of the things that I love about the HubSpot blog tool is their robust feature set when you get into the settings, and what I mean by it is you've got a general tab and you can flip through the different blogs that you have, and by the way, one thing in there is you can say how many posts do you want to have on a single page, and you might want to play with that because maybe it's like you want to have 10 because then the page loads faster, or maybe you want to have 50 because you want it to seem like there's more content. Although I would say make sure there's pagination and don't get caught in the trap of, well I put 20 and then I wrote a hundred articles and crap, it's been six months and people have only seen 20 articles. Oh my gosh.

George B. T.:
There's a thing right there, but then also going into the templates tab, you can then go into the subscriptions tab, which could be probably a whole nother freaking episode of the blog subscription things that we love, because being able to set up this instant, daily, weekly, monthly, being able to customize the entire email preferences around the subscription. It's just there's so much down to even comments, which it's funny that we're talking about a blog and you or I did not bring up comments immediately. There's a whole conversation around that. Is it because comments are dead? I don't know. Could comments be effective in some way? I don't know. Do you have to customize the comments instead of just using HubSpot's default? Probably, but then down into the social sharing for your blogs and then this one, this is the one I'm going to end on and I'm going to let you have the last thing that you want to talk about for HubSpot blogs, is the fact that with your HubSpot blogs, you have the ability to optimize for mobile with Google AMP.

George B. T.:
Listen, everybody wants the junk fast on the mobile devices, and the fact that HubSpot has leaned into now you can connect with search console, now you can connect with Google AMP. All of these other kind of bonus good for your site features, Google AMP and your blog, make sure you've got that figured out. There's a tab in the settings area that you can totally go into and start to narrow down. Anyway, make sure your content is amazing, valuable, and optimize for speed dependent upon the device that the people are viewing it on.

George B. T.:
No, I can't hear you again.

George B. T.:
Twice, twice people.

Remington Begg:
All right.

George B. T.:
Twice in one episode.

Remington Begg:
So for me, the last thing that I want to make sure people go do, and this is a call to action that you're doing it right now. If you're listening to this, hear this statement, and then go to HubSpot and check this out. Most blogs I see you have a subscription box with an email that is an option sometimes for frequency. In almost every case that I see the box on there, if we adopt a portal, we adopt a portal and we realized that no subscription email was ever turned on, because you could have a subscription form without a subscription email turned on, and that's not a real, you've got people raising your hand. We have thousands of people that raise their hands saying they want to hear from us on our blog and then you don't send them anything. Don't be upset six months from now when you get a whole lot of bounces because they don't remember consuming your content.

Remington Begg:
So it's a big, it's a super, super easy mistake, but it's also one of those things that you just need to audit the types of emails that are going out, and in some cases, if it is going, when's the last time you updated that said email notification for a new article? Go make sure the toggle is turned on. You can do that in your blog settings and if you have multiple blogs, you need to have multiple blog subscriptions. So it's not just a one or none thing.

Remington Begg:
So go in, check that out, make sure the formatting looks good, and if you don't like what the formatting looks like, you could totally redo the template with the new drag and drop builder, and George has a cool course for that. But yeah, two portals today I looked at and they didn't have blog subscriptions turned on when they're asking for subscribers. It's atrocious.

George B. T.:
So I'm going to lean in. We got one minute, I'm going to lean into another one because you reminded me of something that makes me start to twitch, and I just, I feel nauseous when I see this, and that is, I want you right now, after you did what Remington said for you to do, I want you to go to your blog. I want you to look in your sidebar, or at the bottom of the blog, or wherever you have your subscribe to our blog, and I want you to look at it, and if you just have the email there, I want you to find whoever set up the blog subscribe, and I want you to go smack them across the back of the head.

Remington Begg:
Shake them, shake them.

George B. T.:
Well, shake them. Okay? If it was you, just smack yourself against, no, don't do that. Don't do that. But if it just says email, dang gone, because you want to call them Bobby, Susie, Jenny, Billy as you move forward, but here's the other thing that people do. They'll drag in that first name. I'm good, first name and email, but they miss one little step Remington and they forget to make that required so people can still actually skip it. So by all that is holy, first name, make it required, email, it's obviously required. Then let them subscribe, but please also do not have it say subscribe. Figure out a creative way to get them into your list for getting your articles that is more human than subscribe. That's it. That's all we got time for for HubSpot Sprocket Talk Unpacked blog tool. Remington, I can't believe we actually made it 30 minutes just on blog tool content.

Remington Begg:
Yep, challenge accepted.

George B. T.:
Yep. Bam. We did it.

Remington Begg:
You can use bots for that too, by the way. Totally use bots to sign people up for subscriptions [crosstalk 00:33:52].

George B. T.:
Oh my gosh. Bonus tips, bonus tips everywhere. All right, folks, ladies and gentlemen, HubSpot users and agency folks. As you watch this, if you have any questions, make sure you hit us up in the Slack channels, make sure you hit us up on the contact page. Heck, send up smoke signals if you need to, we're to help. As always, I'm George B. Thomas and he is.

Remington Begg:
Remington Begg.

George B. T.:
And we're saying be a happy, helpful, humble, human, and along the way do some happy HubSpotting.