#Unpacked EP 16: Email Drag & Drop
Where should I email this content to?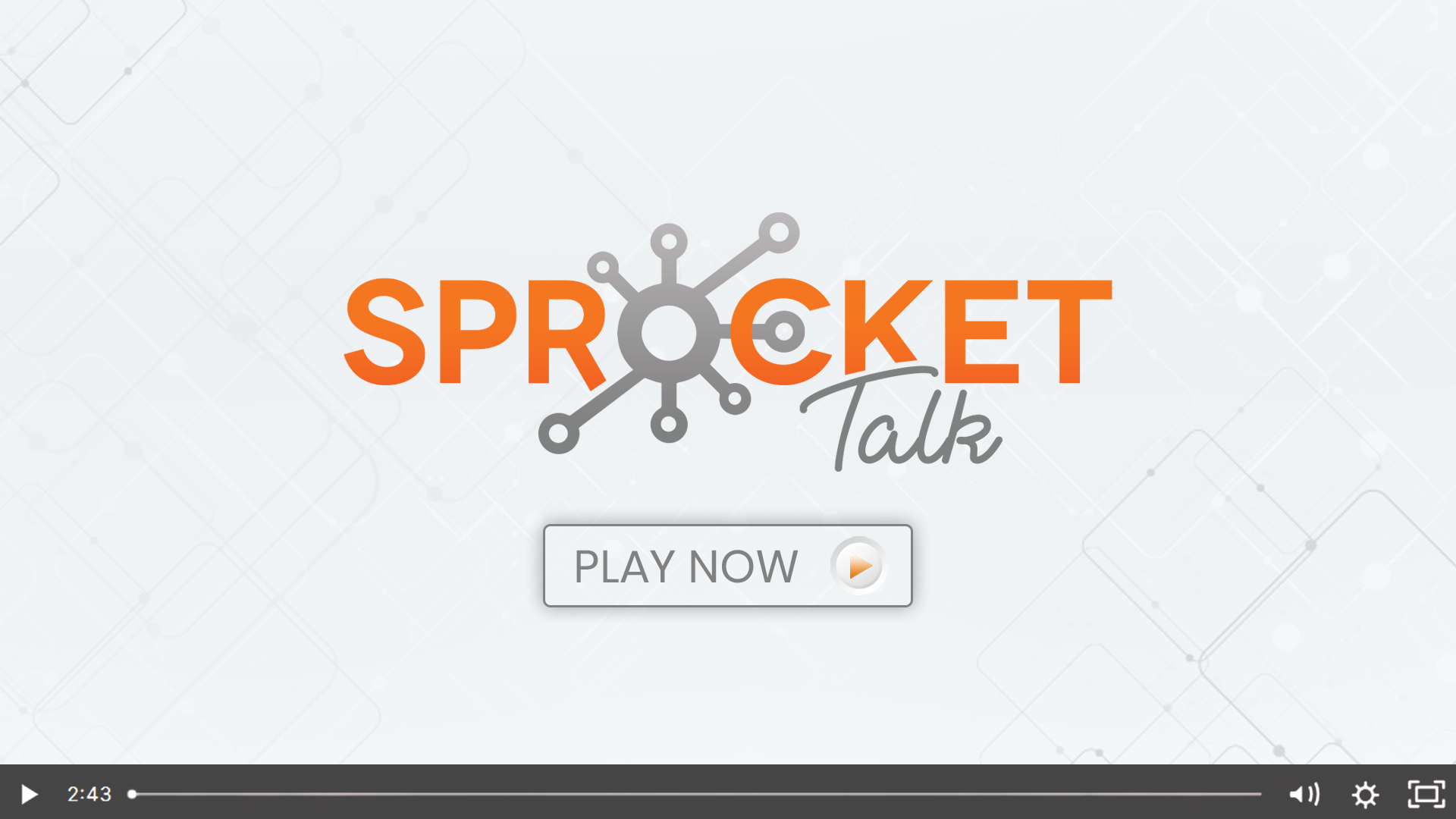 George B. :
All right, Remington Begg, guess what buddy? We are live for a Sprocket Talk. It feels like it's been a century, although it's only been two weeks and that's because dude, you have not been feeling well at all. What is up?

Remington Begg:
I know, I know, and I'm still not, but there is no way I could miss two in a row.

George B. :
Right, exactly, exactly. So if you are watching this live, let us know with a thumbs up emoji that you are with us ready to rock and roll. Today Remington, we are going to unpack something somewhat new, something pretty dang awesome and that is the email drag and drop editor inside of HubSpot, but it's funny because as a marketer I say all those things that I just said. As somebody who works for an agency, I don't know if I want to say those things that I just said. So I'm curious to your thoughts about the email drag and drop editor just from a 50,000 foot view before we dive in to what we like about it or things that we wish that it might do?

Remington Begg:
Yeah, so I think that technology is something that agencies have to be innovating faster than, which is a task for sure. So when we're thinking about the drag and drop tool, it's super easy and most agencies, especially the ones that aren't confident in their delivery, are going to think of it as a threat to what they do and how they do it. We've, at Impulse we've focused very much on leading with value as much as helping with deliverable, so I don't necessarily feel that way, but what's awesome is it literally cuts in half in a lot of cases the amount of time for an email. So what that means to clients is, as we start leveraging this and as clients allow us to use this tools rather than custom builds, it allows for us to essentially do two to one. So we can do two emails for the price that we could do one a month ago. So I think as people look at that, that it could be oh, I'm not going to be able to charge as much, or you could double your output and double the results too. So there's a lot of ways to think about it, but definitely not a threat in my experience. I think it's just an add on that's going to make it so much better for delivery.

George B. :
Yeah, without a doubt. It's funny because I think about the hurdles that people face when it comes to email, and some people, some marketers will say, "Well, it's really hard to work with templates inside of things like Constant Contact or Mailchimp." Or even sometimes historically in HubSpot, getting it to do what you want it to do, and so sometimes when things are difficult to use, they just don't get used, and I think sometimes this is why it's so easy for people to be like, "Oh, well email is not effective." Or, "Email is dead." Or all of those crazy things that they like to say about these different ways to communicate with prospects, leads, and customers, and the thing that I love most about the drag and drop editor, the email editor is the reactions. That when you show somebody, here is what you can do, here is how you can do it, and what I mean by this is we released a full-blown course on the email drag and drop editor inside of SprocketTalk.com, and when people see what they can do as quick as what Remington just said, it's mind-blowing, and so I get enjoyment out of that, because now the hurdle is gone. Now you've streamlined the communication or a channel for communication with prospect, leads, and customers, and I just get super excited.

George B. :
So Remington, let's go ahead and dive into the good stuff. When you think about pieces, parts, functionality of the drag and drop email editor that we're about to unpack, what is something that immediately comes to your mind?

Remington Begg:
So a couple of things from a surprising point of view, right? Surprising things were that at face value it looks very limiting. But that's also coming from someone who is pretty nerdy, right? So I want to be able to throw code in, and I want to be able to set things, and while it's the newer version that I'm sure they're going to iterate, the first view is like, it's kind of limiting. Now, I'm coming at that from an agency point of view, and a lot of that ties into templates, which I'm sure we'll unpack a little bit more later, but overall when we started digging into it it's like, well crap. This actually does just about everything that we should. There are some things we got to adjust in our workflow, but it's mostly our agency workflow, not necessarily capabilities or limitations.

George B. :
Right. I love that you brought that up, that it almost seems like it's in its infancy because it is, and what's fun is that anybody watching this Sprocket Talk Unpacked episode right should also go check out the interview that I did with Shay Redmond who is one of the project managers of the email tool, which by the way, I didn't know this before Remington, but there's multiple groups of email pods if you will, and they're working and thinking about different things about email and how it should work, and Shay is on the tool. He said in the interview that this is just the beginning. That right now there's the classic editor and there's the drag and drop editor, but we're moving into a world where it's only going to be the drag and drop editor, and what's fun is that the historical template system will eventually work with the drag and drop editor. So mind was almost blown into where this is actually going to go.

George B. :
But let me pull out one piece of functionality that I absolutely love, and again, Remington mentioned at the beginning of this, it's about saving time, and there is a design tab. When you first go into the drag and drop email editor, there's a design tab and there's four or five things there, the horizontal line, the buttons, the background, the text, and what it is is it's global styles for that entire email. So you can set your font, your font colors, your background colors, your button colors, your divider colors, boom. Boom. Then, did I say boom, by the way? Then after that, you go over and start creating your email, and as you're dragging and dropping everything, as you're typing, it's just exactly what you wanted because your global styles are already set. Absolutely love that part of the new HubSpot email drag and drop editor.

George B. :
Remington, what are your thoughts? What's another little micro piece of the editor that you fell in love with?

Remington Begg:
Yes, so the first thing again, I'm going to stay on the nerdy side of this fence. We use custom modules quite a bit in email so that we can get the formatting that we want and functions that we want for clients so that things are easy to operate, and one of the key areas that you tend to think of is like layout in repeatable blocks, right?

George B. :
Yep.

Remington Begg:
So historically we've used the custom module to handle all of that, and now what's neat is you can clone an entire row, and in that, you could still use those custom modules. So if you want to make it easier on the marketer in this case, like solving for the marketer is obviously where this drag and drop editor came in for HubSpot.

George B. :
Yep.

Remington Begg:
But at the agency, while we're building out email templates solving for the marketers is really similar in that regard. So if you use custom modules and you stop thinking about it as a repeater, but you start thinking about it as like how to format those elements, maybe it's a signature block, or maybe it's something like that. Now what you can do is you could just duplicate that row and then modify up the things so it's easy to keep things formatted, but at the same time use the ease of use of the drag and drop editor. Super sweet.

George B. :
Yeah, I love that you mention this because the ability to have rows and columns, and to quickly change one column into two or three, or clone that. Maybe it's a column of three or a row with three columns in it, you clone it and now all of a sudden you make it two. I mean, you can just iterate so quickly. But one of the things that I love, Remington, when you're iterating inside of the tool is the fact that even though, and again, you said this at the beginning, you almost felt like you were limited, even though it's a email drag and drop editor, you still have the ability to do smart content. So when you drag in a rich text module that has the WYSIWYG editor that we've all fell in love with and know how to use, there's also a little option when you hover over that module, there's like the trash can and the clone it, but then there's a more, and if you click more you can hit smart content. So they're already focused in that's a major important piece.

George B. :
Well, why is that? Because it's important to have a contextual specific conversation with the people that you're communicating through the email that you're building, and what I'm leaning into is that if HubSpot thinks it's important enough to have that in what might be the beta launch of something that's going to grow into something much bigger, you as a marketer should realize that a specific contextual conversation is what we should be doing moving forward. So hopefully by all that is holy, by all that is holy, I hope that you're segmenting your lists. I hope that you're able to create emails based off of list membership because there's so much more you could do with list membership. I mean we've been hacking the crap out of it at Sprocket Talk. I'm just saying, I'm just saying. But back to the lessons at hand. Remington, when you think of the email drag and drop editor, and it'll be interesting to see if you stay on the nerdy train here, what else do you think of when you think of the new email drag and drop editor?

Remington Begg:
Yeah, so it's very device and platform friendly. So that was probably one of the biggest things that we ran into or that we heard people had issues with, is like, "Oh, this looks horrible in Outlook 2001." For the record, almost everything looks crappy in [crosstalk 00:10:04].

George B. :
Yeah, I'm just. Yeah.

Remington Begg:
I'm just throwing. But in general, the drag and drop tool, they've done a really great job of adding additional mark up to make it so that if it looks and works the right way. It's responsive, which is fantastic, so it's doing, it's hitting all the marks there, but my favorite, this is so sad, my favorite thing is the social module.

George B. :
Oh, yes. Talk about it, yes, yes.

Remington Begg:
So the social module, I've had a very hate relationship with the HubSpot social module amongst the entire tool since Inception, I would say. At least since 2012, right? It was one style buttons that looked like crap that didn't match my brand and I couldn't modify them very well. It was just a train wreck from a brand point of view, and I don't even think that they were like Facebook approved or platform approved logos. Anywho, I digress.

Remington Begg:
So I get into the social tool and started driving, wanting people to go over it and the things that we did like about the old social tool where it would allow you to put in a landing page and add a share link, still there, could overwrite that. But then it gave you the option to completely change the style of the Facebook icons and stuff like that. You had multiple options. They looked good, and it was kind of like wow, awesome. I don't have to hunt like 99 designs to try and find a new Facebook logo for this layout. When we send all our test and preview emails, they weren't 900 pixels wide when the email was actually sent. So this has been, that's probably one of my favorite updates is it locks it in, but yet it's still flexible to where we can make it valuable for the prospect or for the-

George B. :
There is the word.

Remington Begg:
HubSpot customer.

George B. :
Yeah, there is the word. There is the word. Flexibility. As I was building out the course, I was like man, this is really just freeing. I can pretty much do anything I want to do. If I want to have multicolored rows and if I want to add patterned background, and if I want, like all these things. But when I got to that social module, I was like, it is so flexible, and that's where my mind was just blown, and it's funny because you're like, you started that out with like, "It almost sounds stupid for me to say that this is my favorite thing." But I got to be honest with you, I may have one that is even stupider as a favorite than the social module, and that is the fact that it is so easy, and I know this sounds dumb as it comes out my mouth, it is so easy to change the background color of your email. I cannot tell you how many clients historically, or myself, was like, "Dang you, HubSpot." Because it was so hard to, one time you might want to send an email and you might want the background, not where the content is, but behind the content, you might want it to be white, but then one time you might want to get creative and make the background black, right?

Remington Begg:
Absolutely true.

George B. :
And it was so difficult. In the drag and drop editor it's literally like a little circle, click it, color dropper or if you know your hex code number, boom, and you change the background, and what's fun about that background is you're also not contained. I'm not, I'm going to stop there. I'm going to stop there because that's the next thing I'm going to bring up, but the fact that you can change that background color absolutely was amazing to me. It's the small things that make it amazing. What else do you think of when you want to unpack the email drag and drop editor, Remington?

Remington Begg:
So when it comes straight out of a template or straight out of, like you press new email, there's nothing there, and I think there's a little bit of beauty there, because when we start thinking about oh, here is the newsletter template that has 14 sections. All of a sudden we start shoving 14 different things into a template because that's how it looked when it started, but yet now they're starting from scratch. So you don't have to have a 500 word long email, it could be three lines saying, "Hey, thanks for being here." And dropping in a Giphy. That's one of those things that goes back to this ultra simplicity that I think is great. In your talk about the background images and everything, 100%. So I love that it comes that way. I just wish that we could have some preset recipes that we could trigger off of, and I know you got a hack for that in the course. So people will have to check that out.

George B. :
#WishListItems and that is coming, like being able to save something you've built as a template is coming. It's not there right now, and it's funny in that interview when I talked to Shay he's like, "I know it's not a great answer, but the clone button right now is very powerful for doing something like that." It's funny that you mentioned that when you start a new email it's clean. I like the alternative version too. If you're looking for inspiration, that HubSpot has some templates that you can look at and click on, and granted, you don't want those 14 sections, but if you want three of those 14 sections that are easily laid out to left right column, with image description for your products and services that you're trying to promote, that might be a great place to start, especially going back to what I originally said, start with that, cut it down, change all your global styles. Man, you're 75% there, you just got to add the content, the images, the copy, and you're good to go. Go ahead. What? What did that spark?

Remington Begg:
I got to unpack that. So you said yeah, you can just cut it down. Now, hold on. Old school email tool, you want to cut it down, you have to go into the design manager, you have to remove modules. Hope to god that there's another email connected to that template layout, right? And just kind of go through it that way. Now, what you're saying is is we have all of those laid out. Let's say you do it from a clone of another email and you do have those 14 sections, you just essentially just trash can the rows and it can go away.

George B. :
Exactly, exactly.

Remington Begg:
And then of course clone ones that make sense, and drag and drop and change the order, and that's why we were using the custom modules historically. So what's cool for this is now all that functionality is there for the marketer and about an hour and a half, two hours worth of dev time are no longer needed, which most agencies are like, "Crap, I can't charge for that." I love taking stuff away from the dev team so they can focus on deep work rather than emails.

George B. :
Right, exactly, exactly. So here is the other thing I love. A lot of time when you would use the historical HubSpot email tool, you kind of felt like you were constrained in a box, right? You had this box area, that's where your content had to go, and these columns, when you first go in there and you start building, it still feels like you're in a box. You can change the background color, then there's this box with your content, and that's fine. However, if you hover over any of the rows that you're creating in, you can actually say not to be contained, but to be full width. So you can take those rows and make them full width.

George B. :
Now, where this becomes completely apparent and where you can see that HubSpot with this drag and drop editor started with mobile first is if you build out an email and then you go to the preview, like actions and preview. Notice how I was looking at the screen, dude. That was weird. Actions and preview. I don't know. But if you go to the preview, you're going to see that where historically you would see the mobile preview, it would just be all white and it would be your copy and your logo, that's what they would do to make it mobile optimized. Now you'll see that it's mobile optimized but it still has that colored background around it, so it's not just flush white, unless that's what you're looking for and you go and make those rows full width and you make everything white, and then in the mobile preview, it'll look white, but it'll also look all white on the desktop. So that's kind of a cool thing/maybe gotcha that's a little bit different when you think of well, I'm going to deliver this and here is what it's going to look like on a desktop, here is what it's going to look like on a tablet, here is what it's going to look like on a phone. Pretty much your design. Whatever you design it to look like, it's looking like that everywhere. What else, Remington?

Remington Begg:
So RSS in the drag and drop editor. I don't know how many HubSpot portals we go into and the RSS emails aren't even turned on.

George B. :
Yep.

Remington Begg:
Because people don't even know how to get there, much less create a new email. So one of the things I love is that the flow to create a new RSS email is much easier. You don't have to do it from blog settings, where that's where you used to have to. So that's like a new thing that I think must have come out with this release. But now you can drag and drop the whole container of your email, with all the features that George was just talking about. You could throw your logo or maybe not throw your logo on it. You could move stuff around, and then the content is still the RSS, just like I say we know and love, but we really don't. It's just like olden times, and you can cut out the pieces in there, drop in the read more links and you can set up the summary and that kind of stuff. But it's all in that container that's drag and drop. So you want that share button, oh my gosh, right? You want to drop in a couple extra modules and talk about featured services? Now all of a sudden you could do that, where before it was a lot more clunky because you had to base it off of a template rather than a specific email.

Remington Begg:
So this allows for your weekly, monthlies, and dailies, or instants to be completely different, but yet all having the same kind of flow. So there's a couple different ways that you can slice that up.

George B. :
Yeah, so with about nine minutes left, I got to go into this one, and it's really kind of multiple, but when you first go in there, you're going to look at the five modules that they give you. Button module, text module, divider module, social module, there's another one. Anyway, you get five modules and there's more. More meaning you can do custom modules, which we sort of talked about, but you can build custom modules and they'll be down there. Great ones might be like email, signature module, whatever, whatever. But inherently there's going to be marketers out there that are going to be looking for the CTA module, and they're going to get upset because they don't believe that you can do a CTA in the new drag and drop email editor, but I'm here to tell you that you can. You simply have to look under the hood before you throw the car away.

George B. :
When you want to put a CTA image or button based, whatever, into an email, because you want to track it across the entire campaign, which by the way let's back up for a second. Everything in every email editor, classical and this one, is tracked. So if you want to see like an image is clicked, or if a button is clicked, or whatever, you'll see that from email analytics. But if you want to measure across the campaign and you want it to be a CTA, you're simply going to drag the button module onto the screen, you're going to click on the button module and it's going to open up settings, and when it first opens up, it's going to say URL, and you're going to be like, "Yeah. I knew, I would type a URL." However, look at that URL bar one quick time and it's a drop-down, and you're going to see in the drop-down, this is how you can easily do a mailto link.

George B. :
This is how you can send them to a HubSpot page, you can send them to an external URL, or if you click the CTA, a button will show up and you can click CTA, and you can grab any text based CSS button, CTA that you have in there, or any visual graphical JPEG, PNG, CTA that you have in there, and it's in your email. It's that easy because HubSpot is thinking about all the tools that we need as marketers.

George B. :
Remington, what other piece of the email drag and drop tool do you think that people need to know about? Oh, you're muted.

Remington Begg:
It's my turn. The image/logo, I was trying to save everybody from my coughing. The image/logo that's usually across the top, a lot of times companies want the highest, crispiest logo possible and they drop it in, and by default it's going to go full width in that container. That's one of the complaints that I did get when people first jumped into the drag and drop editor. They're like, "Oh, the logo is so big. There's no way to make it smaller." Kind of goes into the whole just don't throw the baby out with the bath water. You got to dig in, you've got settings for that logo that are by default the width of the image, make it less than 600 just so it doesn't take 45 minutes to load your email, but also that's where you have the ability to make it smaller. So we could take a 1,000 pixel wide logo that's in our system, say we want 200 width, and you get to choose whether you want it centered, left or right aligned, which used to be work.

George B. :
Dude. Dude, talk about that.

Remington Begg:
It used to be work, right? So you used to have to make sure that it was centered or right aligned, but it didn't work just in the module that way before. You had to overwrite in the settings, but then it didn't work on Outlook. So it was never consistent, and of course making it match the background was a pain in the butt too because it was a global thing, which you referenced.

Remington Begg:
So now you can resize that logo, you can drop in that thing. I like the fact that it's not called logo and it's called image, because not every email needs your logo all the way across the top in big letters, like lead with value, people, right? So you can drop that in. But that's a big thing that I think is very underappreciated, is the ability to make that happen, and the alignment is like just mind-blowing.

George B. :
Yeah. Yeah.

Remington Begg:
There's an extra button in there too because depending on the padding of your logo, there's default padding which is going to throw a little space around it. If you had that default padding, it's going to make everything line up, but if you don't want it because it's like a header image or something, all you got to do is turn off padding. So make sure you go into the settings of each of the modules because there's a lot more that's there than there used to be.

George B. :
Yeah, it's funny because Remington for me, when I saw the left align, right align, center align logo right there, I was like ... Because I knew that I for ever again, unless somebody is just in classical editor, would not have to type in text align, center, in CSS code, because that's one of the things that.

Remington Begg:
Import and then cross your fingers.

George B. :
Yeah. Is it going to work? And you know it's like oh my gosh, and I was just baffled. But here is the other thing that was amazing to me, is that when you're looking at, first of all, everybody needs to realize the mindset of keeping a row separate from a module, meaning you can edit everything in a module and you can edit everything in a row, but a module lives in a row.

George B. :
So this is what was mind-blowing to me is that historically, if you wanted to add a little 25 pixels of padding to the top, or 50 pixels of padding to the bottom of something, it was very difficult to do. Again, you would have to go into the settings, and you would hope that it worked, and you weren't sure if it was inner spacing or outer spacing, and you would try to hack your way through it, and people would get all sorts of confused, and now if you just go into the row and say that you want to edit the row, there's literally you just type like 25 and 50 and you can visually watch all that spacing happen around the things that you want. So that, it just, again, ease, flexibility once you know how these pieces work. By the way, if you want to know how to these pieces work, then you're watching this either live right now, head over to SprocketTalk.com and become a VIP Plus member and get the course, or if you're watching this on SprocketTalk.com and you're a VIP free, then get the plus membership and you'll get the course. It's that simple, and you'll be able to see every piece of it.

George B. :
One last thing I want to say about the tool Remington and then I'll give you maybe a last thing and a closing is super smart, pardon me, super smart subject lines. Meaning everything that was there before, you can add the emojis, you can add the smart rules. It's just ridiculous how crazy cool you can get with the subject lines, and by the way, I'm bringing that up because that is probably like the copy and design of a call to action is the most important piece for you to focus on for your campaigns, the subject line is the most important piece for you to focus on on your email, unless you just want them to put it in the cylindrical file and delete it, and then never see it. Focusing on that and making it smart, contextual, relevant, all of those words that mean the same thing. That's what you have to do with those subject lines. I actually in that part of the course, dude, I went super deep with the smart subject lines. But what last piece with two minutes left do you want to unpack of the HubSpot email drag and drop editor?

Remington Begg:
Absolutely works for automated emails, and the combination of the smart subject lines, the smart content, and the ability to drop CTAs in there makes it so that you can literally create an experience that is super custom. So for instance, for our Sprocket Talk VIP members, we could have a subject line that says, "Hey [Sprocketeer 00:28:40], here is your latest article." Or we could say, "You could have this article if you sign up for free." Right? So there's a couple different ways that those subscriptions can go. Think about using that smart content, and especially when you start tying that into automation it's going to be huge, and then the final thing is CTAs versus buttons. This sounds like we could go into a debate just specifically on this one for an Unpacked episode, but buttons are great in emails because everything is tracked. You don't need the CTA for that and George mentioned that before. Buttons, I love the fact that they have that new button field because I used to try to style, we actually make custom modules for our clients that weren't CTAs because 95% of the emails would have like a click here to learn more or something that is very contextual to the copy, and you'd have 47 CTAs or click here to learn more. It's still trackable, right?

George B. :
Yeah.

Remington Begg:
So the buttons are huge. You can take any actions off of that for smart list or anything else in the future. CTA is now happening based on the campaign and if you want those buttons to be smart. That's the last drop I'm going to do in that.

George B. :
Yeah, by the way, let's just really blow people's minds before we leave out of here. Those buttons, they automatically work in Outlook. Just going to throw that out there. If you're a nerd developer you're like, "What?" But yeah. Buttons.

Remington Begg:
What you'll see is actually what you get.

George B. :
It is, it is, it is. So here's the thing, it's another episode of Unpacked. This one was obviously email drag and drop editor. If there's something in HubSpot that you would like us to unpack, then just let us know, hit us up. If you are not a Sprocket Talk VIP free member, head over there. If you're not a plus member, maybe reach out to us. See if it's a right fit for you. Ask us what you would get or how it grows with you as you move into being a plus member. I'm of course George B. Thomas, he is of course.

George B. :
And we will see you on the next episode of Unpacked, but until then make sure you're out in the world doing some happy HubSpotting.

Remington Begg:
Toodles.