#Unpacked EP 23: Sales Prospecting
Where should I email this content to?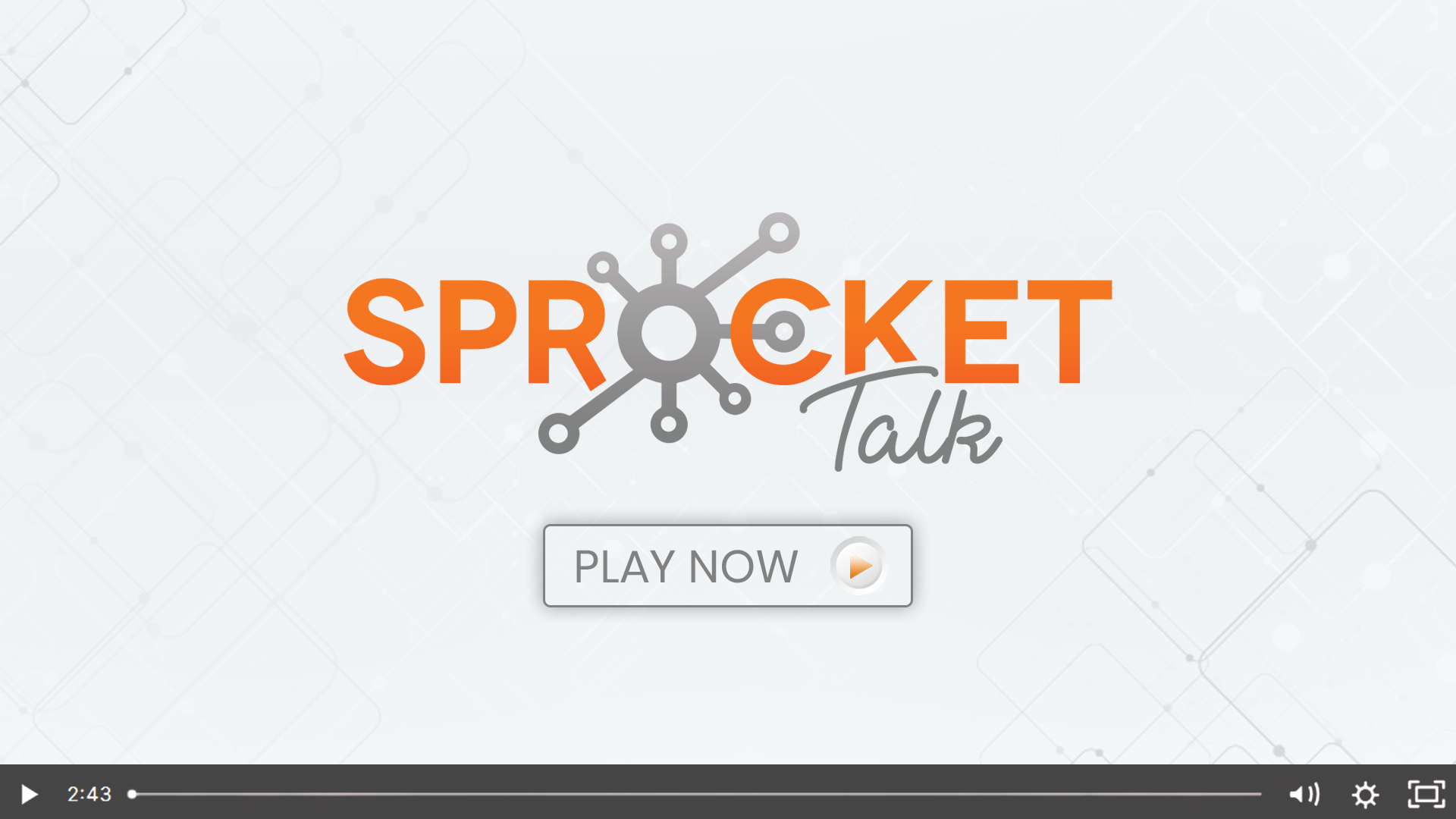 George Thomas:
All right. Remington Begg, I'm super excited. We are once again ... It's Tuesday. It's 12:30, and we are live again for another Sprocket Talk Unpacked episode. How are you doing this week, Remington?

Remington Begg:
I'm killing it. It's a good week. I'm playing some crazy, crazy chess while everyone's playing checkers.

George Thomas:
Yeah. I've got to be honest with you. If people who are watching this have not seen or do not follow Remington on Facebook, I loved how sideways that post that you put about chess versus checkers went. We had things like Blackjack. We had Go Fish. We had Old Maid, which is not exactly what you're going for with that, but it does show the kind of people that you hang out with. It does show some of the Sprocket Talk viewers and listeners even of they have a funny sense of humor.

Remington Begg:
Yeah. [crosstalk 00:04:14] I like chess.

George Thomas:
Yeah, yeah. Exactly, but here's the thing. Sometimes in business, you have to have a funny sense of humor, and one of those places where I think that you have to embrace humor and just kind of a lightness and an understanding of what may or may not occur is when you're prospecting and trying to come up with new leads, new conversations, new people to do business with. And so, today, Remington, we're going to talk about prospecting. Everything from the prospecting tool inside of HubSpot, which I think sometimes gets forgotten by many sales and marketing professionals as well as methodologies and mentalities, tips, tricks, hacks that you've kind of come across along the, gosh, long way of owning an agency and having to prospect and even do inbound prospecting, if you will, through the years. So, when you think of telling the story about prospecting and its importance and things like that, where does your mind kind of start this journey off at?

Remington Begg:
That's a great question. So, when I'm thinking about ... So, not thinking specifically about the tool because there's a whole bunch of goodness there, but when we're thinking about prospecting, there's the outbound prospecting, right, which is turning into almost being like ABM, like you're targeting certain companies and trying to understand who they are. And then, there's the inbound prospecting side of things where it's more farming than hunting, and I really like the farming side because you get to cultivate your crops to the crops that you want, and you get to really understand where people are going. And in sales prospecting, in my opinion, it's important for two types of people, both marketers and salespeople, especially if we think of it as a revenue team, like a true revenue team, and I'll give you an example.

Remington Begg:
The notifications that I get that so-and-so went to your website, I have it set so that notifications from anybody who's in our opportunity list, I'm going to get notifications of that they hit certain pages. That can only reaffirm as a marketer that your content is connecting with people the right way. And then, at the same time, for the salesperson, it's showing further intent, which is something that's super important in the sales process. So, I'm a big fan of inbound prospecting, and outbound prospecting is still effective, but with great power comes great responsibility. I think it's really easy to lose trust if you do it the wrong way, LinkedIn.

George Thomas:
Yeah. Woo.

Remington Begg:
There's a lot of ways that you can really trip yourself up.

George Thomas:
Yeah. If I get one more stupid LinkedIn like, "Hey, thanks for connecting. I think we should do business together," I wish there was a way to just turn certain words or phrases off of being able to come through my LinkedIn messaging because that does get annoying. You know, Remington, it's funny when I start to think about this journey, even again, like you, before we get into the tool, I start to think about how you need to know at a very high level who you're trying to help, and someone might think that I'm going to say personas because I'm very passionate about personas. And yes, you should probably know the persona, but there's a level above that that we talk about at Sprocket Talk and at Impulse Creative, and that is the ideal client, right, the ideal buying-

Remington Begg:
Ideal client profile. Yeah.

George Thomas:
Yeah, exactly. And having that and understanding that from kind of a company shape or form level is really important, especially when you're talking about inbound prospecting, and when you think about having that model or models of the ideal client profiles to then go into the prospecting tool and start to use some functionality. I'm not going to lean into the functionality yet, but start to use some of the functionality that's there to start matching up to who's already coming to your website, kind of a pseudo-warm as far as company-wide prospect or lead to these ideal client profiles versus having an entire dartboard because some people, when we prospect, it's like, "Here's my world. Here's my dartboard. Let me just throw some darts. Yep, it landed on the board, and I'm a winner." Not necessarily.

George Thomas:
If the game is that you're trying to hit 20s, or you're trying to hit 19s, or you're trying to hit 18s, by the way, that's the game of cricket, people, and I'm explaining 20, 19, 18 would be your ideal client profiles. Now, you have some precision to aim into where you're actually trying to go versus this mass amount of people who, companies, have come to your website. So, I definitely think that ideal client profiles, personas are a beginning part of at least having those tools on your tool belt before you even think about jumping into the HubSpot prospecting tool. Now, Remington, I want to get to some pre-show questions and kind of give you some things to go nerdy on, and when I saw this from our friend, Frances Bowman, I was like, "Yep. This is #RemingtonMoments right here." Which, by the way, I'm saying this because if you have comments, if you're watching this right now, and you have comments or questions, put them in the comments or questions, the chat pane over there.

George Thomas:
And if you're watching the recording of this because you're in the actual Sprocket Talk VIP Free or VIP Plus membership, then there's a form over there. You can ask questions. We love to engage. We love to add value. That's literally the whole reason of why we do Unpacked and Sprocket Talk is adding to the community. But for instance, Bowman says, "I'd like to hear more about data enrichment options." I'm just going to stop there. She says, "Especially if costs vary widely." So, let's ... because there's another part of this question, but when you think of data enrichment, and you think of prospecting, Remington, where does your brain go on this?

Remington Begg:
So, when I think data enrichment, so, when I'm thinking it as a sales person, I'm thinking of it pretty automatic and pretty quick. So, the good news is, is that the company level, and a lot of people, this is like a workflow that they omit. At the company level, the company record, as soon as the domain is known, is pre-filled with a whole bunch of goodness that HubSpot uses from a data enrichment source or various, as they put it, in their support docs. But they've essentially built out this profile, and for the most part, it seems relatively accurate. I haven't seen where it's way off, but when I think further enrichment, like that workflow I'm talking about, could take, if that information is identified in the company record, it could copy that information over to the contact record of said contacts.

Remington Begg:
You could totally run it that way so that if the contact, for instance, the criteria would be "I'm getting nerdy" because it was a nerdy question. If the contact field number of employees is not known, and the company record number of employees is known, then copy the company record number of employees to the contact record number of employees. So, what we're doing there is we're making it so that the data enrichment helps at the contact level, but at the same time, it's not going to overwrite something that someone might've put in manually, which has potential to be more accurate. So, that's a nerdy thing. You can replay that like five times, but you could do that with various fields and have various conditions, if-thens, as you're going through. So, that's out of the box.

Remington Begg:
What's awesome about that is that doesn't cost you anything else. If you have HubSpot, and you have workflows, you can make that happen. It starts to get a little bit more complicated when you start going a little bit wider with the data enrichment, and there's a tool called Clearbit, which usually is ... They have a free part of the tool, which is great for email prospecting, but you care about value if you are listening to us on Sprocket Talk most likely. You better, but as we start to think about that, you could use Clearbit. While they don't have a direct integration with HubSpot, they do with Salesforce, and you can leverage Zapier to sync over some of that information. So, how this would go would be you'd get an email address and a domain from a prospect.

Remington Begg:
It essentially would trigger a list that triggers to Zap. That Zapier would reference that email address and then bring you back contact information in to the contact record as a Zap with several fields. So, again, you could do this very similar to how I just said about with the workflows. Those two options work really well. I'm not sure if the cost of Clearbit, but I know, last I looked, it was more affordable than some of the larger, more enterprise tools, and I don't know of any that integrate directly with HubSpot in the interim. So, I'd love to hear if someone else knows about that. That'd be great to add in our show notes.

George Thomas:
Yeah. I love that, and by the way, Remington, Frances gave you a "ready to get nerdy" exclamation mark as you were getting ready to go into that. Now, I'm going to get into the second part of Frances's question here in a minute, but as you were talking, Remington, and you mentioned Zapier, which is another third party platform program, and we're talking about data enrichment. My mind flew back to a couple months ago when I actually did an interview with a company called LeadGnome, and LeadGnome actually uses email signatures and auto-replies to ... I'll use the word harvest. I don't mean that in a negative, black hat way, but harvest more data about the contacts inside of the company and who might be the thought leaders or the handoffs. So, if you're looking for a way to get more people known in individual companies that you're trying to prospect to, something like LeadGnome might be very interesting to lean into this as well, as far as data enrichment.

George Thomas:
Now, the second part of this ... Remington says #TrueThat on those inbound prospects ... is I'd also like to hear more about capturing and reporting on the ... This right here. This right here is where I was like, "Remington Begg, this question was made for you." Okay, here we go. Reporting on the UTM source parameter using hidden fields in or on forms. Remington, on your marks, get set, go.

Remington Begg:
I love you, Frances. No, but ... So, I love that, especially right now. We heard about at inbound some attribution reporting that is going to be coming out that is super advanced. I love leveraging the UTM parameters because it's used in just about everything. It's used in our email newsletters that we have that people send out. Any emails that are added automatically with those UTM parameters on the links is there. People don't realize how much they can leverage out of that. If you build your campaigns right, and that's beyond using just the HubSpot tool for the UTM builder. Look at Google's UTM builder. It's got a lot more fields, and you could also make your own. A lot of times, people don't realize that.

Remington Begg:
So, Frances is talking about UTM parameters that are used in AdWords and stuff like that, not by default, for the record. That's awesome, but you could also put in that if you know on LinkedIn you're only targeting CEOs, you could add a parameter or a position equals CEO in the URL as part of that string, and that is going ... You can make that so that that automatically pre-fills that HubSpot form. Now, we're talking about HubSpot forms. There's some extra logic. It's almost like a Easter egg that HubSpot dropped in on any page that has a HubSpot form implemented on it. And so, what's great about that is as long as the field name matches the parameter that's in the URL, it'll automatically pull that info in if it's a hidden field.

Remington Begg:
Now, so much information I want to give, and I'm trying to temper it a little bit. The first thing you need to do in HubSpot is to create a UTM parameter, a set of UTM parameter fields that match what are on Google's UTM parameter setups, so exactly how it is build in Google's UTM builder. Tracking URL Builder, I believe, is what they call it. So, you're going to create, I believe it's four or five fields, and then, what you can do is you can add those hidden to all of your forms. So, any conversions that drive to a landing page that can have that hidden will start capturing. And what's amazing about that is you can set up reporting on last conversion type. So, you could have your original source type, and then, you could also have your last source type that led to said conversion, really, really powerful stuff.

George Thomas:
So, see, I knew. I knew that there would be flood gates just open on that, and I love it.

Remington Begg:
I can talk for another 45 minutes on just UTM parameters and forms.

George Thomas:
Yeah. That's the thing, and here's the fun thing. Well, maybe that needs to be a show, but here's the thing, Remington. You've got a heart from Frances Bowman during that, and a "yep" that she's following. So, that's amazing, and of course-

Remington Begg:
And I got one more.

George Thomas:
Oh, you got one more. Okay. Go ahead. Go for it.

Remington Begg:
Don't forget your chat with UTM parameters because you can also create different chat messages based off of those, too. So, it can be like we launched, 20chatbots.com, which is all completely set up based on UTM parameters and different bots for different reasons. So, for instance, if you go to 20chatbots.com/1, you'll notice that the UTM parameter builds that out, and there's actually a template there for chat.

George Thomas:
All right. So, Remington, we're 15 minutes into this. We haven't talked about the HubSpot tool at all. So, let's dive into some things that we like about the HubSpot prospecting tool specifically. At least get a couple before we bounce back out and around this whole idea of prospecting. So, I'll go first just because I can. I love the fact that you can, in the prospecting tool, have a tool that is with the rest of the CRM or contact management, and that is the filter. I love the left-hand side filter for this, especially for things like, "Hey, filter out if this is a telecom or an internet service provider or something that's going to be very kind of not effective at all." Down to certain companies that you don't want to do business with, and I mean companies as far as an industry or a vertical or into ones that you do or certain states that you want.

George Thomas:
I want to know all the companies who have visited my website who are in Florida because I want to do some local outreach and maybe going around or things like that. So, having that filter in the prospecting tool is super awesome. I love that that's a feature in there. Remington, what's a feature that you like inside the prospecting tool?

Remington Begg:
Yeah. So, the filters are amazing. I love that you can add to favorites, and you can jump in there, but the other thing that ... and I'm just confirming while you're talking next. So, you can see the original source data on some things, especially if you're doing ABM or outreach in other areas. For instance, we have a whole bunch of people, like 429 people, that came to our site from Florida Gulf Coast University. I know that the basic intent of those people are that they're students looking for a job, right? And what's cool is you can scroll down, and you can see related companies, for instance, but you could also see the pages that they viewed and stuff like that as well. So, when you dig into that to view that record, by adding that, you can see all the people that are associated and then kind of tie that in. So, maybe you don't have a contact anymore that's active at that company, but maybe they are coming back to the site. You're going to have access to that info, and I think that's pretty powerful.

George Thomas:
I love that. Love that. So, I'm going to go into another one. I have to look at my screen because I don't have all of this memorized, but I know the feature that I like. So, I don't have to look at the screen for that, but the fact that the top row, again, like with other contact areas inside of HubSpot, that you can customize the top area for what you're looking at. So, right now, if I go to my prospects tool, and I start to look at information, I see, like you said, I can favorite it. I see the name. I see the domain. I see the number of page views, which by the way, I love that you can filter by the number of page views, so you can see who's the most engaged company versus the least engaged company to give you a kind of place to go, as well as number of visits and last seen.

George Thomas:
And most people, that's what they leave it as. Done. That's all I need, but if you go up into actions, and this is the feature I like, and you hit Edit Columns, you'll literally see that you have the ability. There's prospect properties, right? So, city, country, domain, a Facebook company page is in there. So, if you want to take, well, here I know what they're website is. I know that they've been to my website. Now, I want to go see what they're talking about on Facebook. Why are you bringing this up, George? Well, because if I look at Facebook page information, I can see what they're posting about. Maybe they're moving. Maybe they're opening a new office. Maybe there's something exciting happening in the news around their industry.

George Thomas:
I have now created a prospecting connection point, people, because I went to their ... See, the data is to get us to other places to build a better conversation. LinkedIn company page, LinkedIn bio, like you mentioned earlier, max employee, max revenue, minimum employee, minimum revenue, phone number, postal card, public, state, region, street, time zone, total monthly raised, Twitter handle, year founded, has website is a thing in there. Okay. So, then, visit prospects, first seen, internet service provider, last seen, number of page views, number of visitors, source, source data one, source data two, that's a lot of information that you get and that you can customize that top bar to tell the story that you need your sales team to see and understand and act upon through the prospecting phase.

George Thomas:
So, for instance, it might be I want to see the Facebook page, the amount of visits, the amount of views, and the state because we're only doing business in a single state. Now, that prospecting tool becomes so much more relevant to me as a sales rep because I'm removing the clutter and paying attention to pinpoint precision pieces that are going to help me in what I need to do. So, Remington, what is another feature that you like about the HubSpot prospecting tool?

Remington Begg:
So, I'm a big fan of dropping number of page views and number of visitors in, and at the same time, dropping industry from a columns point of view because if you use the filters and those columns, suddenly now, if you're like, "You know what? I've got some time on my hands. Let me see the types of people I can reach out to," if you have something that is not a telecom company, for instance, but if you have someone that is hitting you up from ... I'm just throwing ... Vivo, right? You've got someone coming from Vivo, and you've got 101 visits to your website, and you have 59 individuals at that company that are coming from that, right? This is real data that you can see. You've got a plus bar that you can just hit Add Company, and what's awesome is a lot of the ones that have a check mark by default are going to be people who are already in your system because most of the time, the CRM automatically will create those company records.

Remington Begg:
But when you have 59 individuals, it's going to be a lot softer for you to reach out to that company and say, "Hey, I've noticed you guys have been consuming a lot of our content. I'd love to have a conversation." That comes through ... Be more helpful than that statement, for the record. That was a summarization, but that's an area where it could be a lot easier than one person viewed 1000 pages. You don't know who that one individual is, but if they have 59 people, right, on their ... The number of employees is 59. When 59 people are consuming your content, you've got to jump on that.

George Thomas:
Right. It's hot to trot right there, which by the way, you know what else we need to jump on? We need a little bit bell, Remington, a ding, ding, ding, ding, ding bell because-

Remington Begg:
To stop Remington?

George Thomas:
No, no. Not to stop Remington. We have [Jerry Mauer 00:25:26]. He says, "Hey, guys. First timer. What up?" We say, "What up," right back to you. Jerry, we're glad you're here. Just, if you have questions when we're going through these episodes, make sure you ask questions. We love to get questions. Also, MrAndy1281, how are you doing today? I like that you're following what Remington was throwing down as well. So, it's nice to have some people joining us on these Unpacked episodes and actually engaging in the comments. I love that. I love it, and we've got Impulse Creative. Howdy. Hi, Dan. How are you doing? So, the next thing that I want to talk about on here, and it kind of leans into some things that we've talked about previously, is there's two things in the prospecting when you go to preview a company, and that is they're giving you ways to research these companies more.

George Thomas:
So, for instance, right from the preview, you can click a link, and it'll take you right to their LinkedIn. Again, in LinkedIn, you can see the amount of employees. You can see what the employees are saying. You can see what the company's saying. You can see what they're posting. You can see if they're updating or not updating. How engage are they? Do they look like a modern company, a historical company? All of those things, right? But then, also, you can search it on Google, and what most people probably would do is hit Google. They'll look at the search results, but are they creating content, or what does their website look like, or is there something that you can help them with? Or if you go into other pieces past the first thing, if you go to Google and then go to videos off of their Google name, what's there? What story is being told? What can you learn before you even have a conversation with somebody from the company so that you come in armed with education, with knowledge about who they are and what they're doing and kind of ...

George Thomas:
My dad said it this way. Walk a mile in their moccasins, right? When you meet somebody, and they feel like you're part of their ecosystem versus an outsider, and you have the mentality of solving versus selling, it just becomes that much easier. So, I'm literally saying to anybody who watches this, take the time, the important time, to research on LinkedIn, on Google, on Facebook, and I hate to say this, not in a negative way but in a positive way, become a chameleon into their life. Understand their roles, goals, and challenges, if you will, as a company and what those individuals are facing. So, I will say use the research tools inside of the prospecting tool. Remington, I'll let you go out of the tool if you want, or if you want to stay in the tool, it's totally up to you. We've got like five minutes left to wrap this up, put a nice bow on prospecting inside of HubSpot and the prospecting inside of sales.

George Thomas:
I know one thing I think I'm going to lean into because I'm curious if it'll turn into an argument between you and I, but what is ... By the way, that's anticipation, people. We're adding anticipation in here, but what is one of the things, when you think of sales prospecting, where your mind goes?

Remington Begg:
So, I've been in a training mode over the past couple of weeks. So, playbooks has come a long way. So, if you're using, I believe it's Sales Enterprise has playbooks. Playbooks are incredible because, now, where it used to just be like, "Ask these questions," now it allows you to place those answers into the record. So, there could be things that you ask people, even while you're prospecting. So, maybe you don't know the contact information. You could save it to the company record. So, think about that because as you're building out the logic of this company and the information that you were talking about, and you're gathering that information, you may not have leads yet, but it could be one of those things that could really drive some considerable value for them moving forward.

Remington Begg:
But Brian Fanzo talked about this, and he had an example where, I think it was Adobe, right? He was essentially trying to court Adobe, and he looked at the content that they were consuming, that they were sharing on all of their social networks and everything, and he started creating content that they cared about because he knew that they were coming to his website. And then, suddenly, he's closing deals with Adobe. You guys could do the same thing when you're thinking about prospecting again from a marketing point of view, not necessarily a sales. Or maybe you have a revenue team. That's really important. But going back to the playbooks because that was a tangent.

Remington Begg:
The playbooks are great because you can put in the context, put in actual standard operating procedures right into those playbooks and have the fields and teaser questions but have the answers that they can put in there. And what's amazing about it is it drops a note, and it saves it in the record so you could create these really actionable contact records or company records. Overall, super, super valuable.

George Thomas:
Yeah, without a doubt, and if you're sitting here watching this, pardon me, and you're like, "Well, I don't have HubSpot Enterprise," you can go watch another episode of Sprocket Talk Unpacked at sprockettalk.com in the VIP Free area where we talked about sales tools, and we literally talked about another tool that you can use in HubSpot to do playbooks, sort of, pseudo, that is an Enterprise features. So, by the way, that's teasing out other content and saying you should go get your free membership at sprockettalk.com. I'm just saying. It's free. Now, the anticipation is probably killing people. Here's the thing.

Remington Begg:
It's killing me.

George Thomas:
Yeah. So, there's the sales process, and there's prospecting, and there are so many companies that think prospecting is part of the sales process, and it is, and it isn't. And what I mean by this is most people will go into HubSpot, and they'll set up their deal stages, and they'll put prospecting pieces in their deal stages. I do not believe ... and Remington, this is where we might get into an argument. I don't know. I do not believe that the prospecting steps or process ... By the way, you should have a process for prospecting and a process for when it gets into sales mode. Prospecting, to me, is all about custom properties and lead intelligence inside the sidebar of that contact or company record. Now, when it comes time to actually create a deal, that's your sales pipeline and sales process. Because what happens is if you put prospecting and the sales process together, it becomes a convoluted, 12-step, 15-step process, maybe even more, that people aren't sure when they're supposed to dive in and what things are supposed to go into.

George Thomas:
And so, I just want everybody to think about, A, do I have a prospecting process that everybody in my company understands and can follow? B, do I have lead intelligence custom properties that we've created, questions, things to report on, curiosities, customer behaviors, and are they in the contact record on the left-hand side where we can start to really understand, "Yes, this is becoming valuable. Yes, we have somebody we can talk to. Yes, it's a sales qualified lead"? Boom, create a deal in a deal stage, and then, do you have that sales process set up with Deal Stages, automation that could be happening in there, automated tasks, automated emails, internal and external? So, do you have those two processes built? Are they one? Have you divided them in two? Remington, with one minute left, what is your thought on all of that juicy goodness that I just threw out there?

Remington Begg:
Yes, and ... So, if you're focusing on ABM, you're going to be looking at the company record and company analytics, which is a little tough right now. There is a different type of prospecting for those individuals as they come in. I totally agree you should not drop stuff in your deal pipeline until it has opportunity to close, and opportunity to close doesn't mean, "Oh, this could close one day." It means, "This is going to close someday, on a day," right? And so, there has to be a ... How I imagine the deals is if you only could have a million dollars worth of pipeline in your pipeline, would you be more choosy about what's in there currently today? If you could only put a million bucks in, chances are the answer's yes. Or make that 10,000 or 100,000 or 10 million, depending on the size of your business and the size of your pipeline.

Remington Begg:
But if you had to be super selective, what would that be, right? That reinforces the behavior of what you're talking about. Now, where I think it doesn't fit is if you are doing traditional outbound sales, and you are prospecting, and you know that that person has a need and a want. They're likely going to be in your pipeline. It's just your deal stages may be hanging out a lot longer and prospecting than they are the rest, but if you're working with a sales and marketing team, now you're talking about the fact that there has to be some kind of differentiation, and yes, that should be like tasks and playbooks and then deals and opportunities and closing cash.

George Thomas:
Love it. Love it. That was a great "yes and" usage, by the way. Let's just throw that out there. That was good. That was good. All right, folks. We've got to wrap this up. It is 1:01 on the dial. So, listen, again, if you want to get other episodes of Unpacked, make sure you head over to sprockettalk.com. If you like these live viewings, and you want to get questions, you can go to sprockettalk.com/unpacked/live. You can actually send questions pre and see what we're going to talk about before we actually get here to talk about it. We always love the questions and engagements in the panel. Thank you for the newbies, the new folks who are hanging out with us today. It's super awesome. Hopefully, we will be able to add value and answer more questions in the future for you. I am, of course, George B. Thomas. He is ...

Remington Begg:
Remington Begg.

George Thomas:
And we are asking you to be a happy, helpful, humble human, and along the way, do some happy HubSpotting.

Remington Begg:
Tootles.

George Thomas:
I waited for you on that one, by the way. I didn't even try to cut you off.