#Unpacked EP 17: Social Media Tools
Where should I email this content to?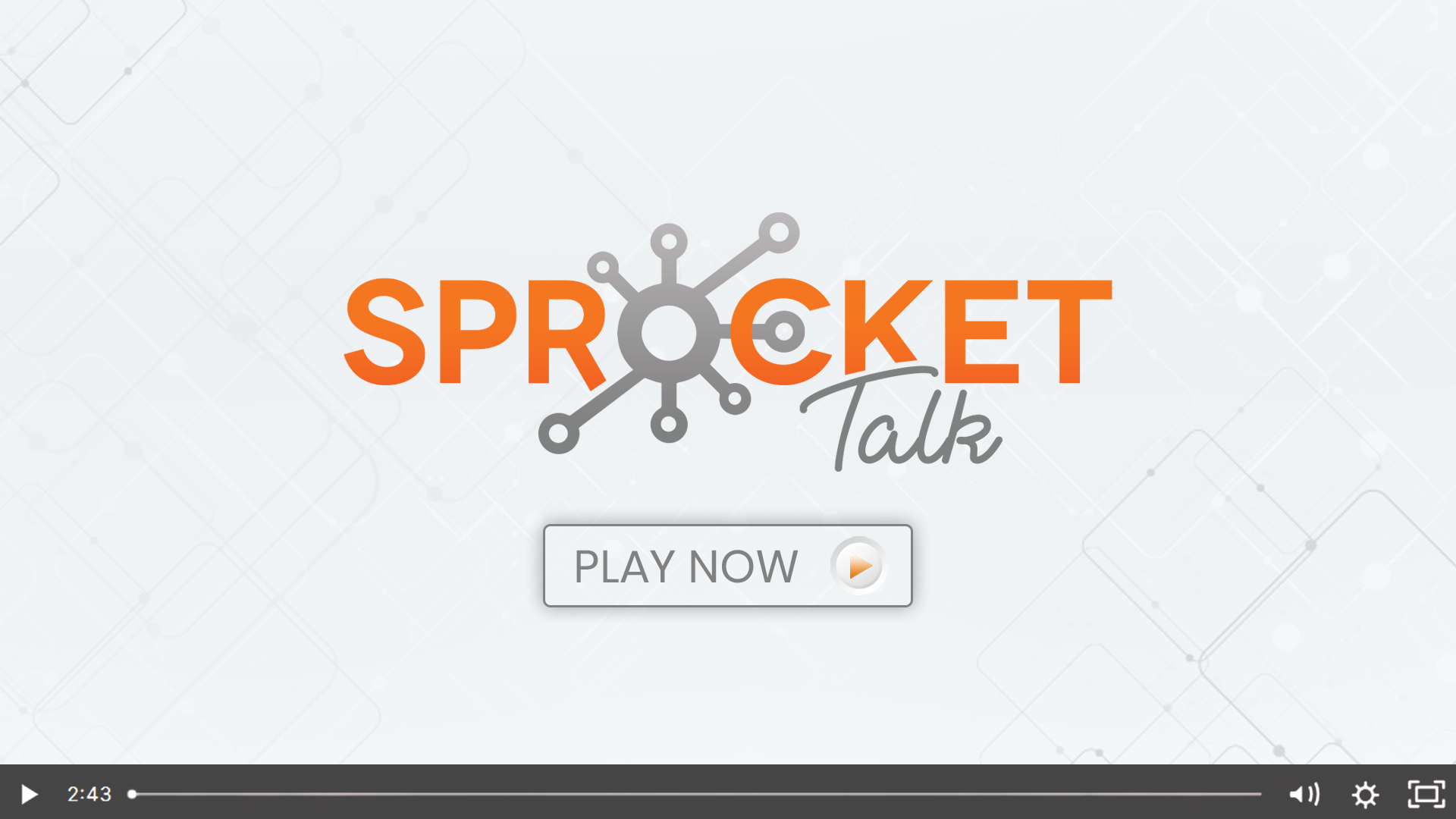 George:
You made it. You made it. How are you doing today? I think you're muted. There. I can hear you. That's funny.

Remington:
It's been great. It's been fantastic. No, I'm on the mend from this cold, this sickness, so now I'm just trying to catch up. But other than that, doing amazing.

George:
Very good. Well, today on Sprocket Talk Unpacked, we're going to be talking about Hubspot. We're going to be talking to you about the social media tools and all of the things that you can do, the things that we love, maybe even some things that we wish were happening in the Hubspot social media tool. So if you are watching this right now live, let us know where you're watching from and give us a thumbs up if you use the Hubspot social media tools or a thumbs down if you don't use it. That's probably, Remington, the question that if I could ask a mass amount, AKA all the Hubspot users on the planet, that's probably the question I would ask them is how valuable or unvaluable they find the Hubspot social media tools. Again, can't hear you.

Remington:
Now That was the mute button.

George:
My goodness.

Remington:
That's an interesting question because I think how we've used social media has changed a lot over the past couple of years. And so that's something that I think it would be definitely interesting as people are chiming in knowing a little bit more about that stuff.

George:
Yeah, definitely. So here's the thing, let's go ahead and dive into it and unpack it. And it's interesting because I actually would position that question because I would have a second question. And the second question actually leads me in to the first thing that I want to unpack on this episode. And that is the Chrome extension in itself. The fact that you can add a Chrome extension, Google Chrome, for those of you that may be wondering what that is. And if you, are you probably not doing inbound marketing. No, I'm just kidding. I'm just kidding.

Remington:
Or at least not doing social.

George:
Yeah, right. A Google Chrome extension where you can be on any page on the internet and quickly call it up to put it into one of your social channels. And Remington, the reason I wanted to come out of the gate with that, which by the way, we can probably unpack micro pieces of that tool in itself, but the reason I wanted to come out the gate with that is I can't tell you how many Hubspot users have gone into their portal, we've started to train them. We've started to talk about social, you mention the Chrome social extension, and they get this deer in the headlight looks like, what are you talking about?

George:
And so they're not using the social tool because somehow through onboarding... Which by the way, now that I'm talking about this, it is not an onboarding thing really. It's an onboarding thing to add your social accounts, but not necessarily to install the social extension. And so there's users that are like, "Well, I didn't understand the power," but when they see the power of that social extension, it's almost like they've been open to do a whole new world. So I definitely wanted to unpack the fact that I love that Hubspot years ago had the foresight to think about we need them to be able to share in a way that isn't in platform but is in where they're at in that moment.

Remington:
Yeah. Yeah. It's almost like a free pro buffer account is really what that extension comes down to. And I love it. I use it. I actually turned it off because I'm not doing a lot of social in that way. I usually just go straight to post directly nowadays if I'm going to post something. But I know a lot of the scheduling and stuff is in app, which we tend to do when things are playing a little bit more. So, yes.

George:
So when you think of the social tool... Which by the way, as I started to dig for this episode, there's actually a lot, if you go into settings and you go into the actual tool. What is something that you would unpack that you either find value in or that you wish it would do better in the Hubspot social media tools?

Remington:
Yeah, so for me it's, I wish... so I love the listening side of it. So the monitoring tab. I wish that the monitoring tab did a little bit better beyond just Twitter for topics and that kind of thing. But I also realize it's an uphill battle because all of the social networks are locking down like crazy because of all this Cambridge Analytica scares and all that jazz. But then, we've got these competitors' streams and stuff, I believe it's an enterprise feature that's in beta that is actually pretty incredible. So the listening is a big thing for me, especially as we get ready for inbound. We've had a lot of those discussions. I personally don't do a lot of posting automatic because I have lots of fun people that do that.

George:
See some people have it that way. Some people don't. I love the listening side of it as well. I love setting up for certain hashtags. For instance, a hashtag Inbound 19, hashtag GBT video. There's all sorts of things that you can do to really pay attention to the river of information and bring it down to the stream that you want to pay attention to. So I'm glad you brought that up. It's funny because I wish that they would maybe rework the listening tool a little bit. I agree with you. It'd be great if it was other channels or it even hooked into Google alerts or something, right?

George:
But also, I wish that it was easier for maybe the normal user, normal human being, to understand the rubrics or matrix that you can create inside of that listening tool to get the finite information that you're looking at. Because when you look at all of the things that you can select. Not this channel, that channel, this word, exclude these words, include those words. Most people, they look at it and they get a little bit confused. So if there was a way to maybe rework that, I love the idea.

George:
Remington, I want to take probably a bazillion steps back though and say one of the things that I want to unpack, one of the things that I think Hubspot got inherently right, is just the ease of being able to connect your social accounts to the tool. I mean, it really is kind of like a one click deal where you click Facebook and now you can connect it, and Instagram and connect it. And I even love the playfulness that happens in the tool where it's like the kitty cat and the ice cream cone and all those kinds of things are happening as you're connecting accounts. And it's really kind of just taking you through a process. So Kudos to how easy it is to get your channels into the Hubspot platform. Remington, when you think of social, when you think of Hubspot, what else kind of comes to mind?

Remington:
So two things. One, going back to the listening side. I love that you can create Twitter streams for only your contacts, right? So a lot of times it's like drinking from a fire hose on Twitter sometimes. But imagine Inbound 19, right? That's a stream that we've set up. We could have an Inbound 19 customer stream that is anyone who's a customer that's in our system, the tweets that we see what they're saying, or something like that. So it allows for you to... Or even our team, right? If we want as a company to engage and retweet and do a bunch of stuff for our team, we could have our team... And you could do that with either a Twitter list or a contact list in Hubspot. And I think those two features are one of those things that are kind of stored away that people don't really think about very often.

George:
You know it's funny... Oh, go ahead. Go ahead. Sorry.

Remington:
No, go ahead. Go ahead.

George:
So you just made me think of a wishlist item because... And this is off the back of just doing a Inbound 19 mobile app review. And one of the things you can do in that app is you can say, I want to filter all the contacts who are coming to Inbound by they are connected to me on LinkedIn. Dude, it would be super dope if you could do social listening and somehow even connect into that you're connected to those people on LinkedIn. I'm just saying, I'm pushing into that. That would be amazing.

George:
So the other thing that I want to dive into, and I want to maybe go back a little bit, not feet, but back to a tool that we're talking about. And that's the social share, the Chrome extension. The fact that you can add video in every platform from Hubspot right now... And I want you to listen to that. So Facebook, that little video icon is there. Instagram, the little video icon is there. Twitter, the little video icon is there. Are you getting tired of this yet? I'm not going to stop. LinkedIn, the video icon is there. If you're publishing to a company page. Right now you can't actually use the video to go to a personal page, probably because it's so, I'll use air quotes here, new on LinkedIn.

George:
But at the end of the day all of the platforms are supporting video. We know we have been going in for years in the direction of video being an amazing communication device. And so the fact that you can have those videos on your Hubspot portal, in your file manager, and then connect and use them for sharing on social. I just think that's a win win situation for anybody who is leveraging this tool through their daily social lives. Can't hear you again.

Remington:
Gosh. I'm trying not to sneeze on everybody. That's what I'm trying to do here. Kill me. This is karma for making fun of you that one time.

George:
I'm telling you.

Remington:
So one of the things that that I really love about creating... Let's talk actual social posting. So in app, we got a lot of opportunities to post. It's funny because I was doing some research in like what people love and hate about the Hubspot social media tool. And people hate the fact they can't robo post, like the same quote all the time. And it's actually against terms of service on Twitter, people. You can't post the same thing more than once. But it's funny how as marketers, this is why marketers can have nice things, as marketers we want to go the easy route and not lead with the most value. And I think that Hubspot has danced a really delicate dance with the social tool, providing enough value that makes it so that it can save some crazy amount of time. But then at the same time also not presetting this robo post inauthentic kind of social... There's just that thing that people want to try and do, right? So I really loved that.

Remington:
And one of my favorite things, and this is in comparison to a lot of other tools that I've used as well, is when you post... You could have a post for Facebook and then you can be like, oh I want to schedule another one around the same time but maybe a little bit different on Twitter, and you could do that. You could post on four different social networks within a couple of minutes and have it scheduled throughout the day. So what everyone loves about Buffer is a perfect example of why it can actually work really well from Hubspot. And the best part is it's all trackable, and I think that's one of my favorite pieces, too.

George:
Yeah, I agree with you. And it's funny because Dan Moyle says marketers ruin everything. Yeah, we do. You know, it's funny though, Remington, when you are talking about that I went to the quote that came into my mind that if you do what is easy, life will be hard. But if you do what is hard life will be easy. And I think that totally goes with your social strategy and posting as well. You really need to pay attention to what you're doing. And speaking of paying attention to what you're doing, there's two little features that kind of work hand in hand. They're very close to each other in the back area of the social tool that I want to just bring to everybody's attention. Because if you're sitting here and you're watching this live or in the recording at sprockettalk.com by the way, get your free VIP membership. Head over there and watch all the episodes.

George:
But if you're sitting there and you go to use that social share extension and you're like, dang it, why does Jenny's name always come up when I go to share this post? Why doesn't it know that it's my account? Well that's because there's a little check mark that you can go into the area where your accounts are and you can check mark them for your Hubspot login to the default. So for instance, I have Instagram as my default for Sprocket Talk. I have the Facebook page of Sprocket Talk as my default. I have my LinkedIn as my default, my Twitter as my default. So whenever I go to use that social tool, I save time, back to you saying that the social tool is about saving you a metric butt ton of time, now it automatically knows what channel I wanted to go to for when I'm posting.

George:
But also right next to that default little thing that you can check there's something called share. And it's kind of weird because you're talking about social sharing and social accounts and then this thing that says share next to your social accounts. It doesn't mean share anything other than the ability for your teammates or the social team of your company to be able to share content on your channels. So if you're sitting here watching this and you're like, well, I would use the Hubspot social tool, but I don't want anybody else posting to my account. Which I don't know if you would actually be like that or not. I was just kind of being sort of aggressive on that last part.

Remington:
I know some people like that.

George:
But you're worried. I'm very, I'm sure you're very... Like this is the brand. I want the brand to be presented in a certain way. So I only want myself maybe to talk about this brand, or I only want this person to talk about the brand. And so you can allow people... I don't care if people share on my LinkedIn. Do I care if people share on my Instagram? Maybe. My Twitter? Probably. My Facebook? Yeah. You know what I mean? So you can have different levels of what you allow people to do.

George:
So if you're watching this, make sure you check and look at the default and the share check marks in your account settings to really help you allow people to do what they can do to help you and you to help yourself save time as you're getting ready to use that social extension. Remington, what's next on the docket for you with Hubspot social media tools?

Remington:
So, a PSA, because this surprises people every time I bring it up, you cannot actually post on anyone's behalf as a person on Facebook. We no longer through the Hubspot tool... And it's not a Hubspot thing. Again, this is like the blow back from the Cambridge Analytica stuff. You cannot post as George B. Thomas or as Remington Begg any longer. And so there's a social strategy that you should start to think about with your teams of getting people to engage on the Facebook page and post or share that actual post if they care about wanting to share that message. So it's just something to put out there. That's the PSA. Even though you want to ungate people being able to post on your personal Facebook page, that is no longer something that can be scheduled and done. And I don't think that's a bad thing, but it changes your strategy.

Remington:
And a lot of times... We had a lot of cut companies that we've had as customers for a long time and they were like, "Well, how come you not posting on my personal profile anymore?" It's like, we can't. Right? So that's a big thing. So this is one that might surprise you. Bulk uploading of Facebook, LinkedIn, and Twitter messages. So it used to be just Twitter, and it was pretty awesome. You download a import template, you build out this just masterful method of a whole bunch of beautiful tweets that are going to go out, of course providing value, and different for every single one. Well now they've opened that up, very quietly might I say, to Facebook and LinkedIn. So now you can auto post from a spreadsheet, which works really well if you're doing events or something like that. Or if you've got a speaking gig coming up and you want to drop in some tweets that are perfectly timed, those types of things.

Remington:
But the fact that you can get on Facebook, LinkedIn, and Twitter I think is pretty incredible. Where before it was just a Twitter thing. So a round of applause to Hubspot.

George:
Yeah, yeah. Round of applause to Remington, too, because I didn't know that junk. I'm just going to throw that out there. I did not know that was an update. Hubspot was so quiet that I had no clue. Which is a good thing and a bad thing at the same thing.

Remington:
They'll probably announce it Inbound.

George:
Yeah, probably, right?

Remington:
I just ruined it for them.

George:
Whoops. Sorry, guys. So, here's the thing. I'm going to go in a little bit of a sideways direction but not really because we've talked about it earlier in this episode. And I mean my goodness this episode is a video episode. How important video is to your success. And if you think about the number one platform that is free to use for video, well it's YouTube. And so I love the fact now that you can add YouTube to your social channels. Now hold on because what I'm not talking about is sharing your videos through Hubspot to YouTube. But what I am talking about is YouTube reports being able to pull... Because this is one thing that Hubspot has been a master at for years is taking what is complex data and simplifying it for normal human beings to understand, make sense of, and then make decisions moving forward.

George:
And so being able to pull what historically has been a confusing place. Although the new YouTube analytics is kind of changing that. But I digress. But what has been historically a confusing place for analytics, which is YouTube, bringing them into Hubspot and being able to see those YouTube reports can really open your eyes to some things that you might want to continue to do or some things that you might want to stop doing. But I love YouTube reports.

Remington:
So you brought up reports. So yes, and... Reporting in general is pretty legit for the social tools because you could see those YouTube ones, but you could also break down the audience by platform and know where things are coming. But what I love is being able to kind of compare a couple of these different reports. So for instance, we have audience size, which we we obviously care about. We've got published posts, the number of interactions, clicks, which we all care about clicks cause that means traffic people, right? The number of shares that are happening, and even the number of impressions, which a lot of times people don't about impressions with the exception of ads or paid. But when you start thinking about impressions, you could really start to understand where your message is getting out there.

Remington:
I know there's a lot of people to jump on the platform that like Facebook is dead, organic Facebook is dead. You're not going to get any results. But I can tell you just by looking at our stats, I promise you organic Facebook is not dead right? And it's a matter of having the right content. And so between being able to look at those shares, impressions, clicks, and published posts, you can start to get a really good idea on whether your content is being engaging or not. And what I love is the fact that you can actually break that down by campaign, because we might want to break that down by platform, which you can do for the record, but being able to break that down by campaign allows for you to see the diamond in the rough.

Remington:
If you've got this campaign and it's ultra targeted and you've got it on these different platforms, how is this campaign performing on each of these different platforms? You can now filter out all the noise and only look at that campaign. And that's of course if you post from the social tool in that regard for those campaign driven posts. But that's a huge thing. And I found myself going back to the social reporting quite a bit recently because it also does pick up the activity that you're doing that has nothing to do with ones you actually posted on through the social tools. So when you start talking about that value, that's another big one, too.

George:
Yeah, that was an update recently where they connected to the accounts and just started pulling in information even if you weren't using the social share tool. But obviously you get some additional pieces if you are. Remington, it's funny because I think about social media, being social, and inevitably it all comes back to being a human. And when you put a machine in the middle of you being human, sometimes it's hard to actually be human. However, Hubspot in their infinite wisdom has published like a human. It's in your social settings. You can turn it on or off. And what it does is it allows you to get away from this computerized 12:10, 12:20, 12:30, 12:30. So if somebody posts something at 12:37 you're like, oh well Jimmy probably actually posted that. But if all Jimmy's posts are on the dot just right on time, savvy people are like, yeah, he's automating his junk. So it's a little bit of a way to kind of get away from that automated look and post in a more human way. And so I love that little setting that's back there in the social tools of Hubspot.

Remington:
Yeah, for sure.

George:
What else, sir? What else you got for us?

Remington:
Calendar view. So, one of the big things you get to schedule out posts, which is amazing, you'll have a tab for that. But there's this little calendar icon that I feel like it's hidden, but at the same time it's pretty obvious, it's right there. But you have the ability to see all the posts that you posted historically. And it's got the little icons for each of the platforms. So for instance, as I was looking at this, we got a lot of tweets planned, but we don't have a lot of Facebook planned. So you can go in and see where you need to drop in some extra content, especially when you start looking at those reports. Because if you're looking at your reports and you're like, wow, Facebook's up. And then you look at your calendar and you're like, wow, I don't have anything scheduled for Facebook. Well, look at that. We might need to start dropping in. So that's a really cool feature that used to be grouped in with all the rest of the activities, but now they've got a strictly for social, and comes incredibly handy when you have multiple individuals.

George:
Yeah, and see Remington, this is why I love the show Unpacked because if the Sprocket Talk viewers and listeners would rewind that part, what they'll hear that you did that is amazing is you connected the dots, right? You said the calendar view quickly gives you a view. Reporting tells you this. You can look at this view and this reporting to understand this thing. This is what you should do. And that's so many pieces of Hubspot, that's what users should be doing. It's almost like a fine cigar and a fine brandy, right? You want to find the pairings or just maybe this cigar goes with a nice coffee, right? Or a scotch. It's like what tools can you pair together to make smart decisions with your Hubspot tool? I wish more people would have that mindset when it comes to the tool.

George:
I want to dive into something that's closely related to your calendar, though. And that is a customizable schedule, because honestly I think I might've used Hubspot for about a year with just the default four times to post on social in the extension, like this time, this time, or this time until I realized in settings there's a customizable schedule. You can say on Twitter, okay suggest these 10 times a day for me or suggest these 12 times, or on Facebook suggest these five times. And really widen up or open up the ability to just kind of suggest when you want that to go out. And again, I tie it back to what we talked about earlier. When you're using the social tool for events, you may want to add some additional dates for five, or not dates, some additional times for five days.

George:
So when everybody's trying to quickly just put out information, and it maybe shouldn't go out right now, but go out a little bit later, you've go those times that are actually arranged around your events, or a trade show you're at, or a Webinar you're about to do or doing, or something where it just fits into what you're doing because it's a customizable schedule in the social settings. Remington, it's 12:57. Let's each do maybe one more thing that we either love or wish would happen with the social tool. What do you got for us?

Remington:
So my wish is that we start to get some better understanding of how video can be used with social. And what I mean by that is, right now if you post a video and you post it again, you're actually posting a copy of the video. And one of my wishes is, and I hope that this is possible, that you could reshare an existing video on Facebook, or reshare an existing video on LinkedIn, or YouTube for that matter, right? YouTube publishing would be fantastic. But as we go through that, rather than having 12 versions over the next four months of the same video being posted, it'd be really great to be able to reference and share other posts again. Because that's going to come through and be much more authentic. So that's a wish. And then I have one final tidbit. There's a day view in this calendar view, which I think is pretty fricking legit, because you get to see the entire post, thumbnail and all. I did not know that. So that's a new one.

George:
And now you do. And that's another part that I love about this show is when we unpacked tools, it makes us dig really deep and we find things that maybe even we didn't know about before. So I'm going to give you a thing that I love, and I'm going to give you what the crap thing, like just what the crap. But before I get to the what the crap, I'm actually going to ask you, Remington, a question. So be prepared.

George:
But another thing that I love is that you can connect your Hubspot account to a bitly account, and you can have a customizable bitly link, because on social people's BS meter is on point, especially when Hubspot first came out, not everybody really knew what a hubs.ly link was. You definitely don't want to use the entire strand, especially on a platform like Twitter because you want it to be shortened. And so being able to connect a bitly, have a customized bitly URL that might make sense again for your brand or your event or whatever, and that just work inside of Hubspot as you're sharing out. Absolutely amazing. I think it's the salt and pepper on what was an amazing social media meal to begin with. Now, Remington, on anywhere... I don't even know. So Remington, do you think that it's still powerful to have a follow me module or tool on any 28, 19, 2020 and beyond website sidebar?

Remington:
So that is very interesting you say that. I, this is a personal opinion, don't think it's a good idea to share or send anyone away from your website ever. It's a great way to attract them to your website from social, but I don't feel like we should be trying to get them to go to. Now that doesn't mean that follow me couldn't be in those email widgets that we talked about, but I don't think that a follow me should be there. And if it is, it should really be able to be set as the company profiles, not as a personal one.

George:
Like I said, as I was getting into this, what the crap? Like what the crap, Hubspot? First of all, think about last-

Remington:
Is this 1997?

George:
Right? So let's think about this. Last episode we talked about how cool the social tool inside of the email drag and drop editor is. Customizable, functionality, it's amazing. It's literally something built today. If you go to the follow me module, I don't know if it has changed and HubSpot actually opened their doors with five employees. I think it's the same follow me module, and it's like let's either kill that sucker or let's update it to be awesome where sure I'm going to use that follow me module. It's going to save me time. I'm going to use it in my emails, never on my website, but at least now I can customize it in one area and drop that module into my emails and I can do brand colors, whatever. I can do company pages, something. Something, please. There's a lot of great minds at Hubspot. Just something.

Remington:
Yeah, but you know what? If they nuke that people who cry, like really bad about something that is so inconsequential and not very pretty. So I mean, the fact that they're able to zhuzh it up, sure. But man, I totally agree with that one. I'm excited to see what they do with the social tool because I think that there's... I say, winter is coming, right? There's this thing that's happening. I think HubSpot's made the first step towards being a data aggregator in regards of getting the data from it. But the social landscape is pretty volatile. I can only imagine being in HubSpot's shoes trying to figure out the best solution, because there's a lot of different paths you could go.

George:
Yeah, I totally agree. Well folks, that is another episode of Sprocket Talk, Hubspot Unpacked. If you have a tool or strategy even that you would like Remington and I to unpack on an episode, make sure you hit us up. You can find us on all the socials. see what I did there? Social media tools, find us on the socials. Or you can email me George@impulsecreative.com. I'm here to help you educate yourself to be the best that you can be. Remington, any parting words before we sign off?

Remington:
Oh, no. Toodles.

George:
All right. Well, make sure you head over to sprockettalk.com if you're not already a free VIP member. We've got tutorials, interviews, courses, all sorts of stuff for Rocket Talk users, Hubspot users that want to unite together and be absolutely amazing. No matter of sales marketing or service. We'll see ya on the flip side

Remington:
Later.